STUDIO PRODIGY | SESSION SIX : JIM SCOTT | From the Ground Up

Saturday, November 8, 2014 at 10:00 AM

-

Sunday, November 9, 2014 at 9:00 PM (PST)
Event Details
Studio Prodigy Master Class Series
Session Six:
Jim Scott | From the Ground Up
 The Studio Prodigy Master Class Series continues with Session Six:  Jim Scott | From the Ground Up, on November 8 and 9 at Jim's notorious personal studio, PLYRZ Studios, in Valencia California.  This is a two-day advanced class encompassing recording, mixing and production techniques, along with special presentations from our sponsors throughout the event.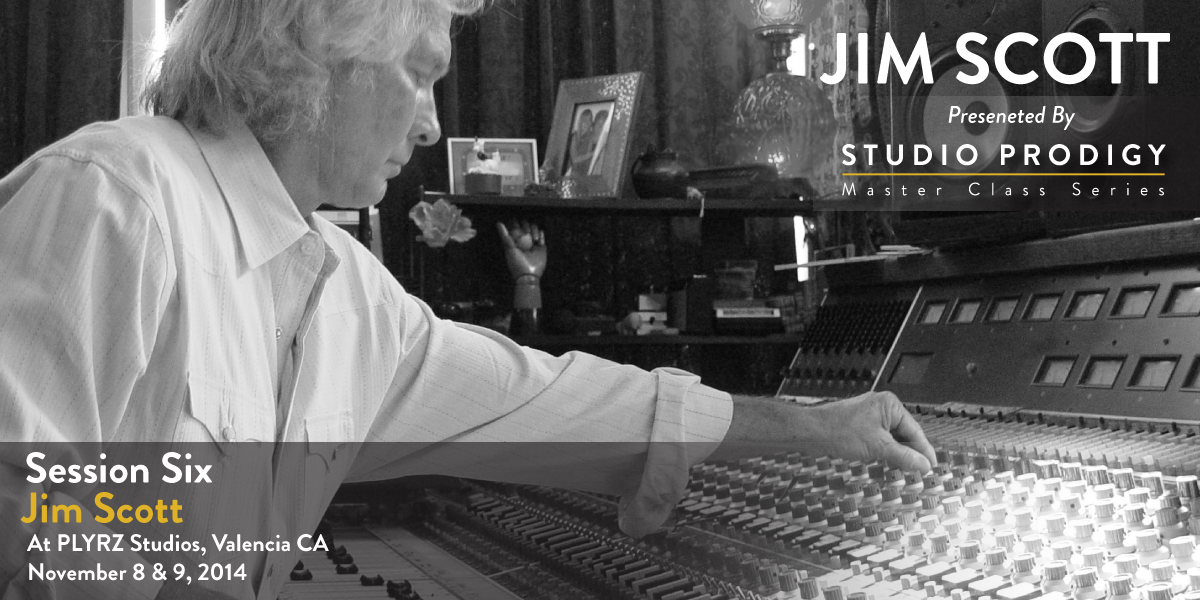 Renown for clean, vibey and impeccable sounding recordings, Jim Scott has brought his sense of style and his mid-western work ethic into the studio, making memorable records with remarkable artists for over three decades.  His techniques for capturing the essence of a band have been refined through the making of classic albums with the likes of Sting, Tom Petty, the Red Hot Chili Peppers, the Dixie Chicks, Wilco and Whiskeytown.  Jim has won 7 Grammy awards, including Best Engineered Recording, Non-Classical, for Tom Petty's Wildflowers.
Just up the freeway from Los Angeles, Jim's studio is a veritable playground for musicians; an enormous warehouse space full of instruments, clad in tapestries and lights, always ready to rock.  PLYRZ studio is centered around a classic Neve 8048 and two BCM-10 sidecars, augmented by Jim's collection of vintage outboard gear and sizeable mic collection. 
Saturday begins with an overview of Jim's recording setup at PLYRZ Studios, and a discussion of Jim's philosophy of making records.  Through the course of the day, we will record a complete song with a fantastic band, and in the process, Jim will show you everything he does to capture a great performance, from micing techniques to production ideas to mentoring the artists and getting the best performances out of them.
Sunday's session will start with wrapping up overdubs and continue with mixing the track.   Jim will walk you through his mix process, answering questions and demonstrating how he thinks about and feels a mix.  Combining the best of old school technique with a little bit of modern technology, this will prove to be a very hands-on experience for attendees, as Jim mixes everything by hand, with little help from automation!
At the end of day two, Studio Prodigy hosts a Gear and Beer fest in the stunning lounge area of PLYRZ Studios, with a view of the Santa Clarita Valley. Here you will be able to check out the great gear with representatives from our sponsors, and hang with Jim as he relates stories from his lengthy career of making records that we all know and love.
---
ABOUT THE SPEAKER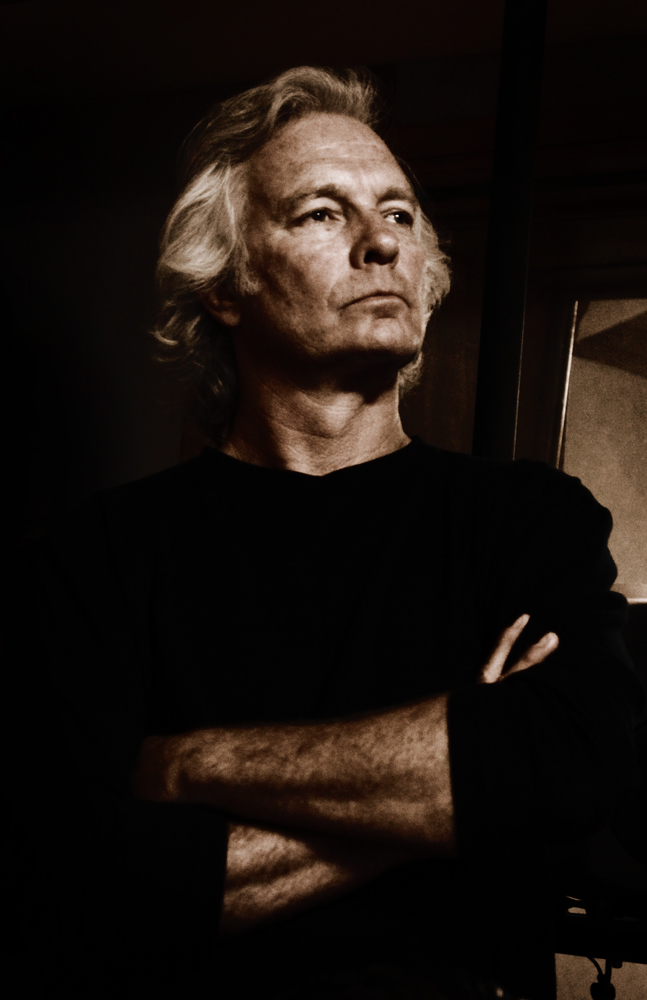 Hailing from Kirkwood, Missouri, Jim Scott moved to Los Angeles to pursue a degree in geology at USC.  After finding himself in an "older-person's" field, Jim left his well-paying professional job and landed a minimum-wage gig at the famed Record Plant Studios.  He started out as a runner and eventually graduated to head janitor before hitting the road with the mobile division.  It was on those remote gigs that Jim developed his preparedness for session work and his lightening-quick engineering skills.
Marriage and family brought Jim back off the road and into the studio again, this time as a seasoned assistant at the Record Plant.  He soon found himself at the top of the pay scale and had to make the leap to independent engineer.  An SOS call from the Record Plant brought Jim into a session for The Police as a technical problem solver.  Six months later, that turned into recording and mixing Sting's first solo album, Dream of the Blue Turtles, and a Grammy nomination for Best Engineered Album, Non-Classical.
From there, Jim's discography built steadily into the encyclopedia that it is today.  Along the way, he's made ground breaking records with artists as diverse as the BoDeans, Danzig, Slayer, Lucinda Williams, Matthew Sweet, Rage Against the Machine, Barenaked Ladies, Foo Fighters, Matchbox 20, Robert Randolph, Johnny Cash, Dido, the Tedeschi Trucks Band, and Grace Potter & the Nocturnals.
The common traits of Jim Scott's records are the powerful sounds and clear arrangements that frame the song, regardless of genre.  Reinforcing and inspiring the clarity are his studio manners; the artist is the focus on a Jim Scott session.  Outside of getting the song to come out of the speakers sounding amazing,  Jim sets up an incredible atmosphere of camaraderie and fun.
Join us in Valencia on November 8 and 9 to see how Jim Scott puts it all together, from the ground up!

Click below to read more about Jim...
http://www.allmusic.com/artist/jim-scott-mn0000348633/credits
http://www.plyrzstudios.com/PLYRZ_STUDIOS/HOME.html
http://www.soundonsound.com/sos/dec99/articles/jim.htm
http://mixonline.com/recording/mixing/engineer-jim-scott-interview/
http://mixonline.com/recording/interviews/audio_jim_scott/
---
Registration will begin at 10am on Saturday where attendees can relax with coffee and snacks.  A full catered lunch and dinner will be served each day, and Sunday's session will wrap with a Gear and Beer Festival featuring the latest gear and representatives from our sponsors as well as some great California micro brews and maybe some margaritas from the PLYRZ blender if we're lucky.  Sessions will end around 10pm each day.
Tickets for Studio Prodigy | Session Six with Jim Scott are priced at $1272 and available exclusively through EventBrite. There are only 10 spaces available for this session, so apply early!  An installment plan with 3 easy payments is available.  Please inquire at tickets@studioprodigymcs.com.
Please note that tickets and payment installations are non-refundable and non-transferrable.
Accommodations and travel to Valencia are the responsibility of the ticket holder.  There are several hotel options within a short drive of the studio, which is about 45 minutes north of Los Angeles, in Valencia, CA.
When & Where

Plyrz Studios
28288 Alta Vista Ave
Santa Clarita, CA 91355


Saturday, November 8, 2014 at 10:00 AM

-

Sunday, November 9, 2014 at 9:00 PM (PST)
Add to my calendar
Organizer
At Studio Prodigy, the entertainment industry's top producers, engineers, and artists come together at legendary studios in Los Angeles, California to share their knowledge and expertise in an exclusive, intimate setting. Hear the power of professionally recorded music in person as chart-topping music professionals reveal their philosophy and technique for making better recordings. Past presenters include Ryan Hewitt, Ross Hogarth, Eddie Kramer, Al Schmitt and Steve Genewick and sessions continue this summer with Jim Scott.