Event Information
Refund Policy
Contact the organizer to request a refund.
Eventbrite's fee is nonrefundable.
About this Event
Studio Players 10-Minute (virtual) Play Festival – July 23-26, 2020
See six plays in one sitting, featuring a wealth of local talent and scripts from across the country! There is something for everyone to enjoy at this fun, fast-paced, sometimes dramatic, sometimes zany evening of (virtual) theatre. Make plans to join us for something a little different, a lot of fun, and maybe something you haven't seen before…from the comfort of your own home!
The 7th year of the Play Festival is, by necessity, our first 10-Minute (virtual) Play Festival. Nevertheless, we are excited for the opportunity to offer this popular event in a virtual/remote format - exploring and experimenting with performance and storytelling, with communication (between actors, and between actors and audience members), and finding ways to convey relationships and connections in a way that is both familiar and new, and full of opportunity. One thing that won't change, though – every performance is live and taking place as you watch. We hope you'll join us!
July 23-26, 2020
2:30 pm Sunday, all others 8pm
Tickets: $6 (price includes all processing fees)
Appropriate for teens and older. Some mature language.
Produced in association with Banta Productions and sponsored by Context Financial
6 scripts were selected from over 300 submissions. All 6 plays will be performed each night of the play festival:
ORDAINED
By Mark Harvey Levine
Directed by Carly Preston
Cast: Tanner Gray, Emma White, Kaitlyn Winters
Place/Time: Airport gate waiting area. Present.
Sharon has a license -- and she's not afraid to use it.
THE LAST WORD
By Dan O'Day
Directed by Tim X Davis
Cast: Joy Davis, Walter Tunis
Place/Time: The Den/Office in Dad's home. Present.
A man and his daughter struggle to determine which memories she will carry with her for the rest of her life.
HALLMARK DOESN'T MAKE CARDS FOR US
By Jackie Martin
Directed by Patrick Mitchell
Cast: Chantée Jordan, BerNadette West-Fugate
Place/Time: A front porch, anywhere. Summer, 1:43am
Jenna and her mother, Maggie, have a complicated relationship, strained by a rocky past. Now that Jenna has left her husband, she's reluctantly taken her daughter to stay with Maggie for the summer. One late night, Maggie tries to connect with Jenna and unspoken thoughts, unresolved resentments - and maybe first steps toward an understanding? - begin to emerge.
ROYAL
By Randy Hall
Directed by Rowen Haigh
Cast: Jennifer Goff, Mia Self
Place/Time: A Receiving Line, London. Present.
Two well-heeled British gentlemen attend a public appearance by her majesty the Queen. Royal watching is a weekly tradition with these two and today will be one of particular note.
TRIVIAL
By David MacGregor
Directed by Jeremy Kisling
Cast: Wesley Jay Akers, Hayden Bennett, Zoë Womack
Place/Time: A brew pub. Now and then.
An epic battle for the future of humanity takes place in a brewpub between a woman who values knowing things and a man who does not.
BOXES ARE MAGIC
By Allie Costa
Directed by Meredith Frankie Crutcher
Cast: Chantée Jordan, Chelsea Russell
Place/Time: A small apartment. Soon.
In this comedy about resilience, resistance, and the forces of nature, a woman must simultaneously contend with an unstoppable force and an immovable object.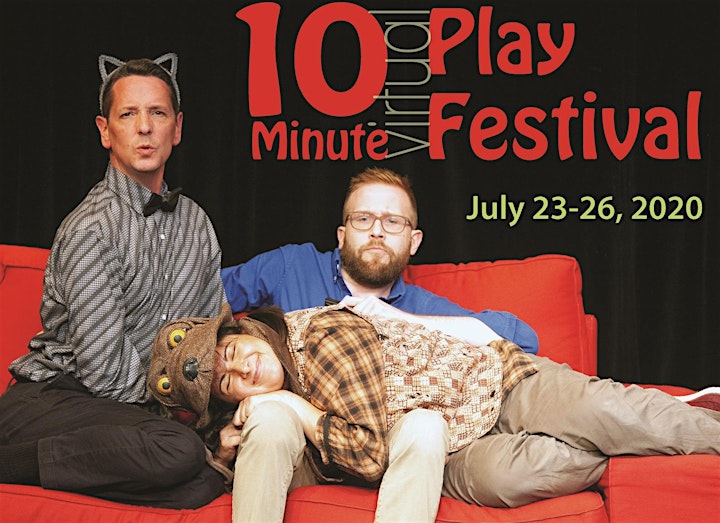 Location
Refund Policy
Contact the organizer to request a refund.
Eventbrite's fee is nonrefundable.