Description
Studio Crawl is a two-night event during which guests meet the designers and creators behind some of the city's most admired products, designs and brands. Studio Crawl is held at various architecture and design studios, shops, galleries and startups around San Francisco allowing studios to share their products and projects to professionals and design enthusiasts. Experience the best of the Bay Area design with us!
All studios will be open from 6-9 PM.
Please bring this ticket with you.
The $10 pass allows you entry into all the studios participating for this night!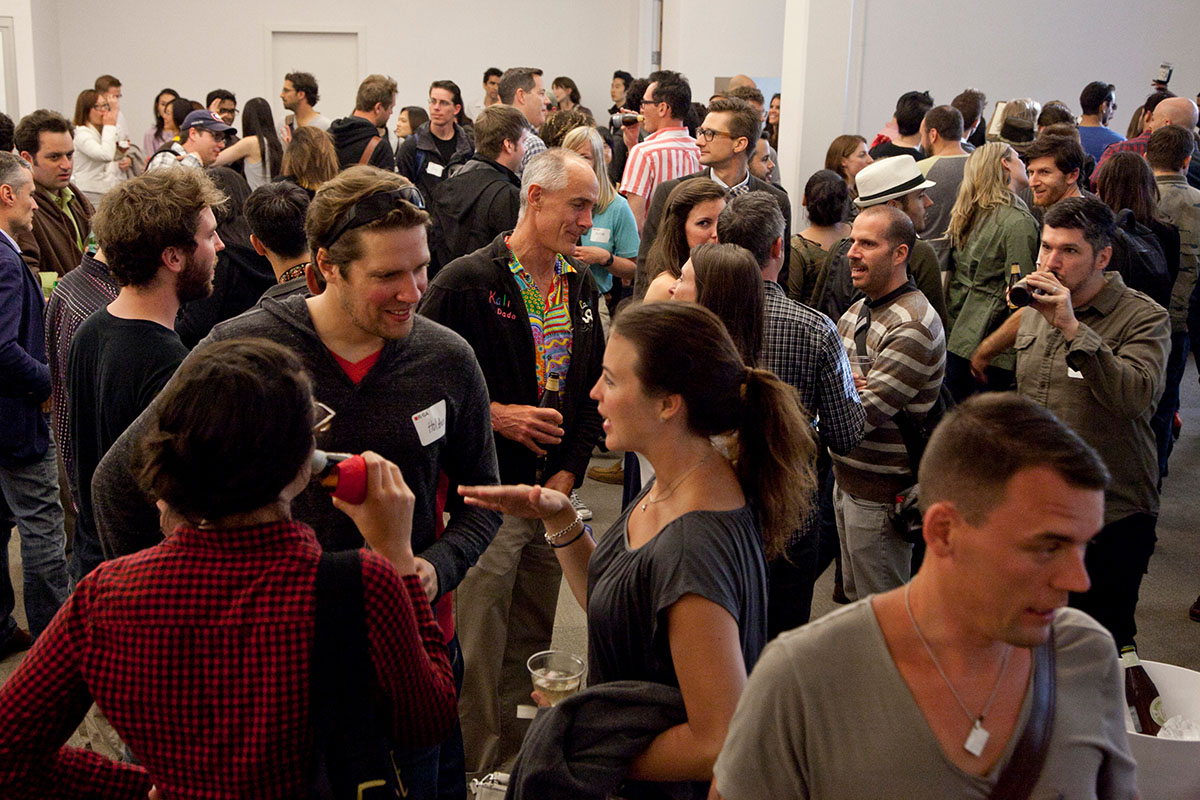 FINANCIAL DISTRICT:
Butchershop : 432 Clay Street, San Francisco, CA 94111
We're questioning everything about modern design by transforming our space into an ode to all things DIY and analog. Join us for an evening of lively conversation, libations, and thought-provoking installations as we challenge you to rethink what you know about design. Butchershop™ is an independent, award-winning creative agency specialized in deep discovery, brand strategy, design, content and digital experiences.
Cooper : 450 Sansome Street, 9th Floor, San Francisco, CA 94111
Join us for drinks and eats, and explore our swanky new studio in the Financial District. Founded in 1992 by Sue Cooper and Alan Cooper, the "Father of Visual Basic"​, Cooper is an award-winning design and business strategy consultancy, with offices in San Francisco and New York. Our mission is to help organizations think big, create delight, and achieve success. We approach every engagement with fresh eyes and a proven framework. Through Cooper Professional Education, we share the best practices we developed, and empower participants and clients to create superlative products and services.
COTA Innovation : 708 Montgomery Street, San Francisco, CA 94111
Come enjoy Innovation fireside chats and work shares with featured Innovators and collaborators uncovering the FUTURE of Fashion, FUTURE of Work, FUTURE of Mobility and the FUTURE of Causes. Live music special performance in our cool studio/ gallery space at the historic Canessa Print bldg in the heart of FIDI/North Beach. Don't miss the clash of culture, tech and art that we call COTA Innovaton.
LIFT Agency : 650 California Street, Suite 2200, San Francisco, CA 94108
We are LIFT. No, not that mustachioed rideshare company, but a creative agency obsessed with driving results (not cars) through beautiful creative and strategic design. We geek out over data and optimization to achieve big LIFTs for our clients.
Our agency is built of 40 employees in the heart of SF. We specialize in retail and subscription based companies and serve clients ranging from billion-dollar corporations such as Charter Communications to smaller—yet mighty—brands like TRX and everything in between.
Career-seeking? We're currently hunting for designers with a love of impactful creative that delivers results. Can't wait to meet you!
NewDealDesign : 1265 Battery Street, Floor 5, San Francisco, CA 94111
Mingle with the team of Technology Designers at NewDealDesign. Matchmaking people, culture, and technology we build joyful physical and digital experiences for innovators big and small. From strategy to brand, digital experience to industrial design and engineering, we create sticky experiences that make people smile. We're always looking for new talent and great ideas. Come chat, have a drink on our wrap around balcony and get to know the team in our penthouse office overlooking the bay. Drinks, snacks, and insights into our process included.

Rapt Studio : 111 Maiden Ln 4th Floor, San Francisco, CA 94108
We are a group of believers – crazy talented, intensely focused, and curious to a fault. We are architects, designers of all sorts, strategists, and dreamers. We come together to create the genuine, connected and consistent experience necessary for a brand to thrive in 2017 and beyond. Join us for a drink and compelling conversations in our studio space.

Redshift Digital : 8 California Street, 6th Floor, San Francisco, CA 94111
Come rub shoulders with our hybrid teams of designers, developers, and researchers in our downtown studio. Meet the passionate, creative people who thrive on collaboration and solving tough problems to create digital products that deliver simple, meaningful experiences for users, and successful results for our clients. Ponder our favorite questions "How can we make it better? How can we make it simpler?" over snacks and drinks.
swissnex San Francisco : The Embarcadero, Pier 17, Suite 800, San Francisco, CA 94111
How will we collaborate and create in the future? Anchored within swissnex San Francisco at Pier 17, the Living Lab is a testing ground to explore the future of work and collaboration. The swissnex open space hosts a diverse resident community of universities, startups, corporate innovation outposts, artists, designers, a gallery and two event spaces. Under one roof, swissnex brings together product, technology, and research partners that each contribute toward building an innovative space and community that experiments and learns together. For San Francisco Design Week, enjoy a sneak peak into a new way of collaborating in a unique space on the waterfront with experiences co-created with IdeaPaint, Logitech, Nestlé, Ruckstuhl, View, and Vitra. The evening includes a presentation by Zürich based typographer and comedian Ursus Wehrli and music from DJ Josette Melchor. Admission includes entry to the ECAL Graphic Design exhibition at swissnex Gallery. Join us for demos, drinks, snacks and spectacular views.
Transparent House : 472 Jackson Street, San Francisco, CA 94111
Join the folks behind Transparent House (TH)—the next-generation creative studio that excels at the intersection of digital, art, and commerce. Our studio specializes in the creation of stunning 3D assets, branded environments and high-end retail developments, and TH employs strategic digital innovation and 3D for high-profile, future-looking brands. Our goal is making 3D the spectacular core of our client's marketing campaigns.


MISSION:
Exygy : 2601 Mission Street, #300, San Francisco, CA 94110
A certified B Corporation, Exygy is on a mission to design exceptional software for the world's leading change makers. Come meet the folks working at the intersection of design, technology, and social impact! Our team, clients, and partners are aligned with a common purpose of improving our community and environment.
LUNAR : 2012 16th Street, San Francisco, CA 94103
Come meet and chat with the inspired team of designers, engineers and thinkers behind the work of LUNAR. Since 1984, the LUNAR team has been creating charismatic designs that are good for people and good for business. Our aim is to make a difference for our clients and their customers, stakeholders and brands. LUNAR's broad array of skills serve our clients all the way through the development process: from identifying the right opportunity to putting it in a customer's hands.
Mission Bicycle Company : 766 Valencia St., San Francisco, CA 94110
Meeting inside our Valencia St. flagship store, visitors will get a first hand look at our workshop where all Mission Bicycles are built one at a time. The tour will include Q&A with our design team, insights to our collaborative design process, and a live demo of a new prototype bike we've been working on featuring both integrated lighting and GPS tracking. We'll also be drawing the winner of a free Mission Bicycle! To enter, come into the store any time before our Studio Crawl and design your own bike. In true Mission style, there will be aguas frescas and Mexican street food provided.
Noise 13 : 1616 16th Street, Suite 370, San Francisco, CA 94103
Come meet the our team of big picture thinkers, passionate designers, foodies, surfers, cyclists, dog lovers and bar trivia nerds. We are a brand strategy and design agency that works in partnership with our clients to create insightful, compelling brands. From brand strategy to visual identity programs to website and packaging, everything we create is born from a desire to help our clients stand out in the market and create relationships with their customers.
Come by for an open bar and snacks from 6 to 9pm. We'll also be hosting a "Question Everything" photo booth. We have questions, but do you have the answers? Join us to find out!
---
CONTACT INFO: aiga@aigasf.org
REFUND POLICY : We do not offer refunds. If event is sold out, we might be able to give your spot to someone on the waitlist.