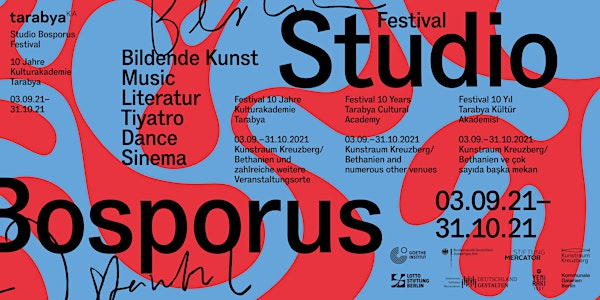 Studio Bosporus
Eröffnung: Multidisziplinäres Festival mit künstlerischen Positionen von über 100 Tarabya-Alumni & türkischen Koproduktionspartner:innen.
By Kulturakademie Tarabya
Date and time
Friday, September 3, 2021 · 6 - 11:59pm CEST
Location
Kunstquartier Bethanien Mariannenplatz 2 10997 Berlin Germany
About this event
DE
Eröffung des achtwöchigen Festivals "Studio Bosporus.10 Jahre Kulturakademie Tarabya"
3.9.–31.10.2021, im Kunstraum Kreuzberg/Bethanien und zahlreiche weitere Veranstaltungsorte
Mit dem bundesweiten Festival Studio Bosporus richtet die Kulturakademie Tarabya vom 3. September bis 31. Oktober den Fokus auf den deutsch-türkischen Dialog. Sie nimmt die politische Situation in der Türkei ebenso in den Blick wie die plurale Gesellschaft Deutschlands. Anlass ist der 60. Jahrestag des Anwerbeabkommens zwischen Deutschland und der Türkei als zentrales Erinnerungsdatum einer gesellschaftlichen Vielfalt sowie das 10-jährige Bestehen der Künstlerresidenz am Bosporus.
TR
100'den fazla Tarabya geçmiş dönem sanatçısı ve Türkiye'den işbirliği ortaklarının katılımıyla gerçekleşen çok disiplinli sanat festivali.
Festival, Kunstraum Kreuzberg/Bethanien'de ve birçok etkinlik mekanında gerçekleşecektir.
Almanya genelinde yapılacak Studio Bosporus başlıklı festival aracılığıyla, Tarabya Kültür Akademisi 3 Eylül-31 Ekim tarihleri arasında Almanya ile Türkiye arasındaki diyaloğa odaklanıyor; böylece hem Türkiye'deki siyasal durumu, hem de Almanya'nın çok sesli ve çoğulcu toplumunu mercek altına alıyor. Festival, bu toplumsal çeşitliliğin oluşumundaki mihenk taşlarından biri olan, Almanya ile Türkiye arasında imzalanan İşgücü Alımı Anlaşması'nın 60. yılı ve İstanbul Boğazı'da bulunan sanatçı rezidansının 10. kuruluş yıldönümü kapsamında gerçekleşiyor.
ENG
Studio Bosporus. Festival for the 10th Anniversary of Tarabya Cultural Academy
A multidisciplinary festival with artistic contributions from over 100 Tarabya alumni and Turkish co-production partners.
Kunstraum Kreuzberg/Bethanien and many other venues
With the nationwide Studio Bosporus Festival from 3 September to 31 October, Tarabya Cultural Academy will focus on German-Turkish dialogue. The festival looks at the political situation in Turkey as well as Germany's pluralistic society. The occasion is the 60th anniversary of the recruitment agreement between Germany and Turkey as a central commemorative date for social diversity, and the 10th anniversary of the artist residency program on the Bosporus.