Description
Studio Audience for America's Funniest Home Videos (AFV)

~ Saturday, January 26th, 2018 ~
~ Saturday, February 23rd, 2018 ~
THREE show times to choose from:
FIRST SHOW (CHECK IN PRIOR TO 10:30 AM):
10:30 AM (check-in)
12:00 PM (show time)
2:30 PM (out time)


SECOND SHOW (CHECK IN PRIOR TO 2:30 PM):
2:30 PM (check-in)
4:00 PM (show time)
6:30 PM (out time)


THIRD SHOW (CHECK IN PRIOR TO 5:30 PM):
5:30 PM (check-in)
7:00 PM (show time)
9:30 PM (out time)
~ Best dressed male and female at each show wins a $$$ prize~
Description
The longest-running primetime entertainment show in ABC history returns with host Alfonso Ribeiro and the same mission: to provide viewers with hysterical moments that fly by at a dizzying pace. These real-life blunders are fun for everyone from four to one-hundred-and-four. America's Funniest Home Videos -- the show that invented the viral video -- continues to be a Sunday-night tradition for millions of families from coast to coast. Witness classic comedy in the making by being a part of the studio audience at Manhattan Beach Studios. AFV is ages 16+ with the dress code.


Event Website
http://tvtickets.com/fmi/shows/browserecord.php?&show=America%27s%20Funniest%20Videos


Highlights
Watch a video of behind-the-scenes bloopers.
PLEASE READ: Special Parking and Dress Code Instructions
WEEKEND (SATURDAY/SUNDAY) AUDIENCE PARKING: Free audience parking is available in the studio's on-lot parking structure. Go south on Redondo (from Rosecrans) and enter at the main gate Visitor Lane - on your right at the end of Redondo.
AUDIENCE INFORMATION / DRESS CODE: The studio audience at AFV appears on camera and appropriate dressy attire is required. Jackets/dress shirts and slacks preferred for men. Absolutely NO casual attire please - including: jeans, shorts, leggings, t-shirts, solid white shirts, tank tops, flip-flops, beachwear or hats, and please do not wear clothing with large photos, words or logos that may appear on camera. Guests not dressed appropriately may be denied admission.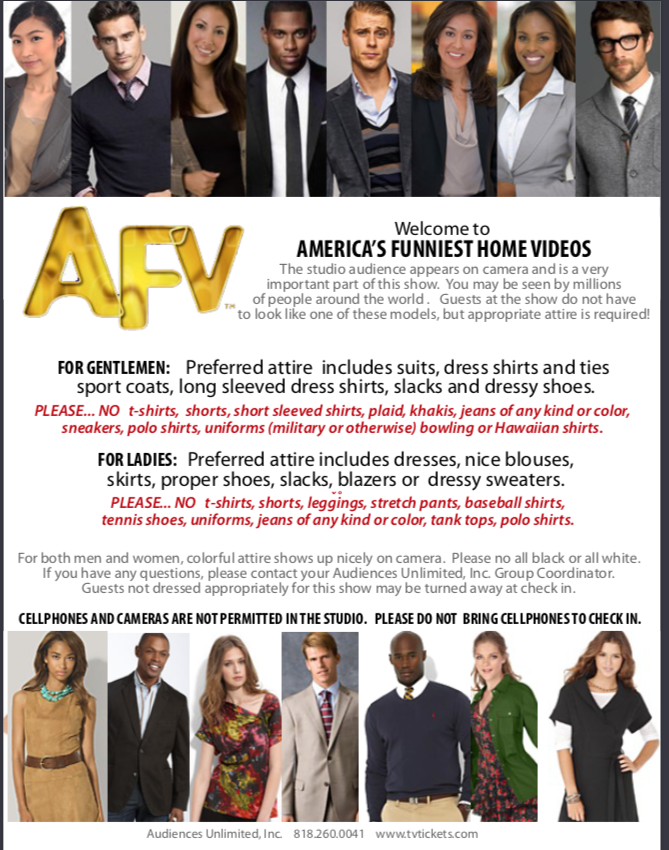 Advisories and Restrictions

Seating is not guaranteed for this event, even with a ticket.
You must be age 16 or older, with valid ID, to attend.
ADA seating is very limited for this event and cannot be guaranteed.
Cellphones, cameras, and pagers are NOT permitted in the studio. Please leave cell phones in your car or at home and do not bring them to check in.
For security purposes, once on set and seated in the audience, we ask that you do not leave your seat or step onto the stage at any time unless escorted by a staff or crew member. Failure to comply will result in removal from the studio.
Sales can end at any time at the ticket organizer's request or when tickets are sold out. Please note: ticket quantities are limited.