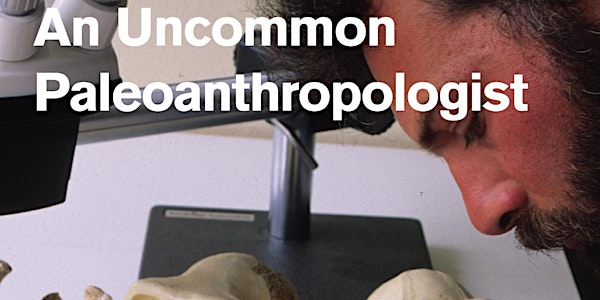 Student Tickets: Inaugural Bill Kimbel Impact Lecture
Eminent paleoanthropologist Bernard Wood will highlight William Kimbel's career—a brilliant and respected scientist who passed away in 2022.
By ASU Institute of Human Origins
Date and time
Friday, April 14 · 7 - 8:30pm MST
Location
Rob & Melani Walton Center For Planetary Health 777 East University Drive Tempe, AZ 85287
About this event
1 hour 30 minutes

Mobile eTicket
This Eventbrite site is to secure tickets for ASU students only. Students may secure two tickets per valid Sun Card. Bring your e-ticket on your phone or printed and your Sun Card to the event check-in.
The Inaugural Bill Kimbel Impact Lecture—An Uncommon Paleoanthropologist
An Evening with Bernard Wood, PhD
7:00 pm at the Auditorium of the Walton Center for Planetary Health Auditorium.
You are invited to join the Institute of Human Origins (IHO) Research Council and IHO Director and Professor Yohannes Haile-Selassie for the Inaugural Bill Kimbel Impact Lecture. This lecture series is the outcome of an endowment established in former IHO Director William Kimbel's name by his generous friends and colleagues after he passed away in April 2022.
For this inaugural lecture, Bernard Wood, PhD, and Director of the Advanced Study of Human Paleobiology at George Washington University, will focus on the scientific career of Bill Kimbel. Wood will review the nature and significance of Kimbel's unique and important contributions to paleoanthropology through both fieldwork and analysis. Kimbel was a consummate morphologist, whose knowledge of the craniodental evidence for early hominin evolution was unequalled. But he also understood that the opportunity to recover and study the original fossil evidence was a privilege, which comes with obligations and responsibilities. The obligations include the need for painstaking observation and analysis; the responsibilities include the requirement to present results in a way that promotes constructive and rigorous debate. Bill Kimbel was widely respected for his scholarship and professionalism. His career, which serves as a model for civility in our discipline, exemplified how the enterprise of paleoanthropology should be conducted.
About the organizer
One of the important primary missions of the Institute of Human Origins (IHO) at Arizona State University is education outreach—sharing how we "became human" with the general public, including K-12 students and teachers—IHO's events program is one part of advancing that mission. IHO also supports educating the next generation of human origins scientists through student scholarships. Funding from IHO events helps to support education outreach, student scholarships, and seed funding for research, as well as operations that support research and students. Your donation to attend events supports all of these essential programs. Thank you!