Det här eventet har avslutats.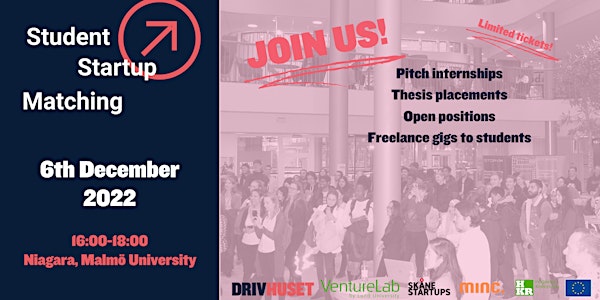 Student Startup Matching Fall 2022
Student Ticket for Student Startup Matching - This event is for students and startups to mingle and find the right fit for their job opening
Tid och plats
Plats
Niagara 1 Nordenskiöldsgatan 211 19 Hamnen Sweden
Eventdetaljer
At this event, students will get the opportunity to listen to a wide range of startups. Startups will talk about their job openings. Together you will get the chance to inspire each other and discuss collaborations. This is the perfect place to mingle with people and the opportunity to get an excellent experience on your resume!
Get your ticket to be one of 200 students listening to about 25 local startups that pitch for Internships, Co-founding positions, Thesis Placements, and Freelance Gigs. There will be enough time to mingle and connect with successful founders. Your chance to dive into entrepreneurship!