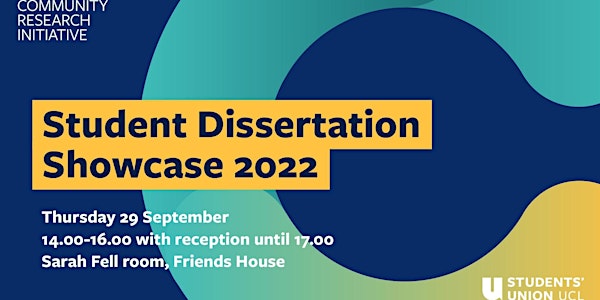 Student Showcase
Celebrate our master's students who undertook a collaborative dissertation with London's voluntary sector.
When and where
Location
Friends House 173-177 Euston Road London NW1 2BJ United Kingdom
About this event
Join us for our 1/2 day mini-conference, celebrating our wonderful Class of 21-22. You will hear from master's students from across UCL who decided to do something different with their dissertation and worked in partnership, collaborating, with a voluntary & community sector organisation. Or a non-profit for want of a better word.
Hear directly from them what they've learned through the process of cross-sector collaboration - good, the bad, and the ugly!
Hear also from our Community Partners - what it means to them to be part of the research decision-making and shaping the product at the end. Our students work aims to be both useful and useable beyond the dissertation or indeed UCL!
At the bottom of all this lies our deep belief in inclusive research practices, knowledge democracy, and power sharing.
Knowledge isn't power. Sharing it is. -Jean Claude Pinto
The showcase will be held on Thursday 29 September @ 14.00-16.00. Celebration refreshments and networking to follow until 17.00.
Wheelchair accessible? Yes
Please check out the excellent AccessAble link for the Sarah Fell room at Friends House.
And here is the AccessAblelink for the Friends House itself.
If there is anything we can reasonably do to ensure you get the most out of this event, please don't hesitate to get in touch.
Family friendly? Yes
Please don't juggle childcare to make our event - why not come along as a family? It is a very informal event and plenty of space for you to dip in and out, depending on your companion's attention span! There'll be scrap paper and crayons aplenty to keep little hands at least slightly occupied.
Please let Anne know ahead of time.