Student Lunch with Dr. John Pierce

Tuesday, May 10, 2016 from 12:30 PM to 1:30 PM (EDT)
Event Details
Student Lunch with
John Pierce, PhD

 Distinguished Professor of Family Medicine and Public Health;

Director, Population Sciences
UC San Diego Moores Cancer Center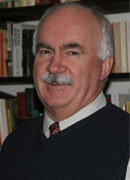 Tuesday, May 10, 2016

12:30-1:30 PM

Morrison Commons, Rockefeller Center
The Rockefeller Center is hosting this student lunch with Dr. Pierce prior to his public talk, The C. Everett Koop Distinguished Lecture: "Progress Towards C. Everett Koop's SMokefree Society," Tuesday, May 10, 2016, 4:00-5:00 pm, Auditoirum G, Barbara E. Rubin Building, Dartmouth-Hitchcock Medical Center.
Speaker Bio:

John Pierce, PhD is a Professor for Cancer Research in the Department of Family Medicine & Public Health. He has led the cancer prevention and control effort at UCSD since 1992. Currently, Dr. Pierce is director for population sciences at the UC San Diego Moores Cancer Center.

Dr. Pierce is recognized for his outstanding contributions to cancer prevention research for his work on the epidemiology of health behaviors, and in particular on tobacco smoking and nutrition in cancer care. He has been honored by a number of societies including American Association of Cancer Research and the Congress of Epidemiological Societies for his cancer prevention research.

Dr. Pierce received his B.Sc. from Monash University in Australia, an M.Sc. from McMaster University in Canada and an M.A. and Ph.D. from Stanford University. He is a fellow of the American College of Epidemiology and also of the Society for Behavioral Medicine. His research interests include: cancer prevention, breast cancer, population level, tobacco use, obesity, diet and physical activity and breast cancer, health behavior interventions theory, and behavioral epidemiology.


Source: http://healthpolicy.ucsd.edu/john-pierce-phd.html

When & Where

Morrison Commons
Rockefeller Center
Corner of North Main and Webster Sts.
Hanover, NH 03755


Tuesday, May 10, 2016 from 12:30 PM to 1:30 PM (EDT)
Add to my calendar
Organizer
The Nelson A. Rockefeller Center at Dartmouth College
The Nelson A. Rockefeller Center for Public Policy and the Social Sciences at Dartmouth College fosters a commitment to the ideals of public service, leadership, and informed civic engagement exemplified by the man for which the Center is named, Nelson A. Rockefeller. The Center endevors to inspire and energize students to become effective leaders in their communities & to cherish and participate in democracy. Connect with us online!

Student Lunch with Dr. John Pierce