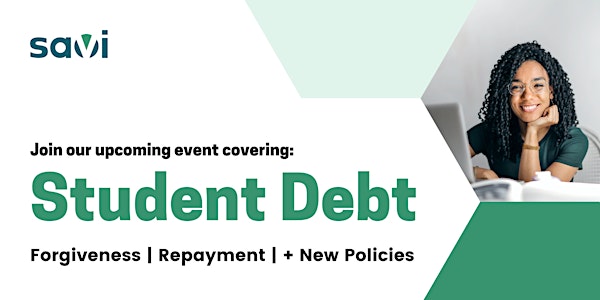 Student Loan Borrowers: Loan Forgiveness Workshop - Powered by NACAC & Savi
Join this live session + Q+A with student loan experts to hear about student loan forgiveness and policy changes.
About this event
The borrower experience has been broken for too long. Savi is on a mission to change that experience for the better.
Join this webinar to find out how you can check your eligibility for student loan forgiveness. Be sure to bring your questions for our student loan experts! No borrower should struggle alone, which is why we've created this space for our community of borrowers, friends and family members to access trusted support and guidance around their student loan debt.
This LIVE and interactive virtual webinar and Q&A session with student loan experts will help you:
Understand your best repayment options before payments resume
Determine if/how your eligibility has changed under the new PSLF rules
Administer all repayment & forgiveness paperwork on your behalf
What you need to know about this event:
Who: You, your friends and your family
What: Learn more about lowering your monthly payment, your eligibility for PSLF, status of servicing transfers, latest policy updates, and how Savi's tool can help you get started.
By electing to participate in this webinar you are agreeing to the terms of our Privacy Policy.