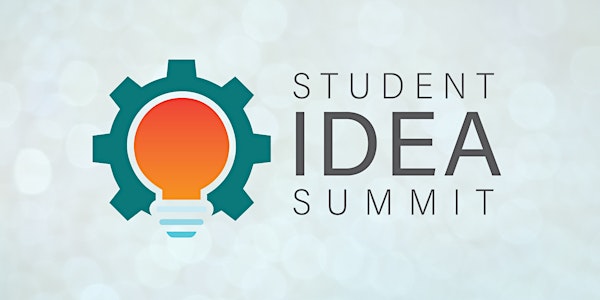 Student Idea Summit 2022
The Student Idea Summit is an experiential learning event designed for students to network, share ideas, and practice innovative thinking.
By SOVA RISE Collaborative
When and where
Date and time
Friday, May 6, 2022 · 10 - 11:30am PDT
About this event
The Student Idea Summit is an experiential learning event designed for students to share their creative ideas and social innovations, practice entrepreneurship mindset and innovative thinking and meet and network with entrepreneurs and business people from around the Southern Virginia region (VDOE Region 8 and surrounding localities).
The event will take place on Friday, May 6, 2022 from 1:00-2:30pm on Zoom.
Choose one of two tracks:
Track 1 - Generator Pitch Competition
For students who have completed the CO.STARTERS Generator powered by RISE Collaborative
Individual students or teams of students can compete in the competition by delivering a pitch to a team of judges. Students should pitch a product or service that explores innovative approaches to problems and opportunities. All ideas welcome! $3,000 in cash prizes will be awarded to the top teams/individuals!
Track 2 - Innovation Workshop
For all other middle and high school students who are not pitching in the Generator Pitch Competition
The workshop is designed to explore innovative and technology driven approaches to answering pressing community needs and to spark an atmosphere of innovative thinking and community impact. Students will select a breakout room based on the category most interesting to them.
Categories include: Education, Alleviating Poverty, Health and Wellness, Environmental Sustainability, Quality of Life/Placemaking
______________________
Eligibility
Public school, private school, and home school students in middle and high school in GO Virginia Region 3, which includes the following 15 localities, are eligible to participate in the Generator program: Halifax County, Mecklenburg County, Brunswick County, Lunenburg County, Charlotte County, Prince Edward County, Cumberland County, Buckingham County, Nottoway County, Amelia County, Pittsylvania County, Henry County, Patrick County, Danville, and Martinsville.
Cost
It's Free! There is no cost to attend the summit, thanks to our program sponsors.
For more information about the Student Idea Summit, please visit https://sovarise.com/ideasummit/.
About the organizer
Starting, building, or growing a business doesn't have to be a journey that is taken alone. RISE Collaborative centers the entrepreneur in a supportive ecosystem, where they can connect and grow with other innovators on their own journeys to success. Entrepreneurs are also connected with resources for training, networking, and capital access in an environment that welcomes founders of all experience levels.