Sales Have Ended
Ticket sales have ended
Thank you very much for supporting the students of UB Theatre and Dance by buying tickets to one of our student-run shows. Please consider joining our social media for updates on future productions: https://www.facebook.com/ubtheatredance/
Sales Have Ended
Ticket sales have ended
Thank you very much for supporting the students of UB Theatre and Dance by buying tickets to one of our student-run shows. Please consider joining our social media for updates on future productions: https://www.facebook.com/ubtheatredance/
About this Event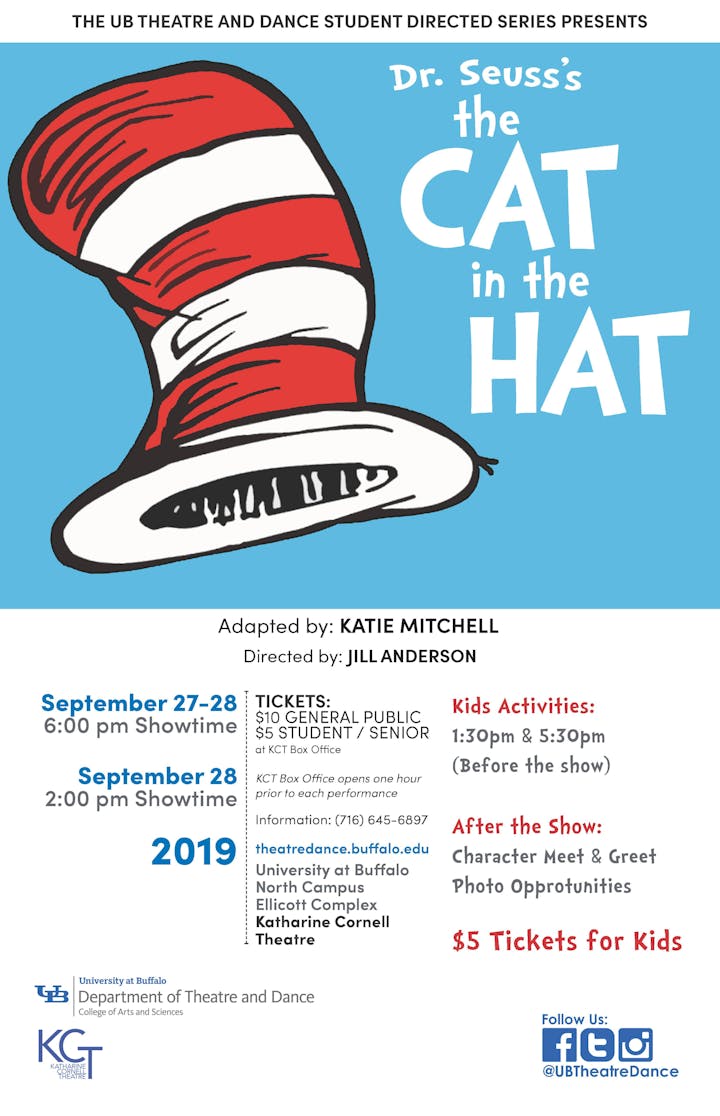 Directed by UB Music Theatre major Jill Anderson, this all-student produced show will have public performances at UB Katharine Cornell Theatre on Friday, September 27 @ 6:00pm, and Saturday, September 28, 2019 @ 2:00pm and 6:00pm.
"Our 30 minute show is filled with fun, adventure and, of course, a lot of mischief," said Anderson. "Dr. Seuss created timeless stories for all ages, making The Cat in the Hat a fun night out for the whole family."
Audiences will be treated to fun, visual gags like flying fish, balancing acts and the outlandish machine which cleans up the mess once the fun is done. Before the show there will be crafts, coloring pages, and other Dr. Seuss books available for children and families (30 minutes prior to curtain). After the performance there will be a meet in greet and photo opportunities with the cast.
What can audiences expect from Jill Anderson's theatrical version of the story? "I want the audience to see these iconic character jump right off the page and land center stage. You will see all of your favorites, like the rambunctious Thing One and Thing Two, the frazzled Fish, and of course the mysterious Cat in the Hat himself. Our production follows the storybook word for word in full Dr. Seuss rhyme."
Theodor Geisel, writing as Dr. Seuss, created The Cat in the Hat partly in response to a 1954 Life magazine article by John Hersey that was critical of the stilted, didactic primer books children were forced to read in school, like Dick and Jane. Book publisher William Spaulding of Houghton Mifflin reportedly challenged Dr. Seuss to, "Write me a story that first-graders can't put down!"
"Dr. Seuss's The Cat in the Hat" is part of UB Department of Theatre and Dance's annual Student Directed Series, made possible by the generous support of The Abbe Raven Martin Tackel Fund.