Event Information
Location
Morrison Commons, Rockefeller Center
2 Webster Ave
Hanover, NH 03755
Description
Student Dinner and Discussion with Bob Bixby
Executive Director, The Concord Coalition

Monday, October 15, 2012

6:15-7:30 pm
Morrison Commons, Rockefeller Center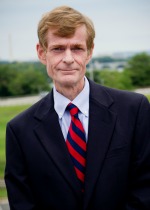 The Rockefeller Center is hosting this student dinner and discussion with Mr. Bob Bixby, Executive Director, The Concord Coalition.
The dinner follows a panel discussion, "The U.S. Fiscal Deficit: The Good, the Bad, and the Ugly," at 4:30 pm in Rocky 003.
Panelists:
Robert Bixby, Executive Director, The Concord Coalition

Adrian Ferrari '14

Sarah Morse '15

Charles Wheelan, Senior Lecturer and Public Policy Fellow, The Nelson A. Rockefeller Center
Moderator:

Marjorie Rose, Senior Lecturer, Department of Economics
Robert L. Bixby is Executive Director of The Concord Coalition, a nonpartisan, grassroots organization dedicated to fiscal responsibility, founded in 1992 by former U.S. Senators Warren Rudman (R-NH) and the late Paul Tsongas (D-MA). Former Senator Bob Kerrey (D-NE) now serves as Co-Chair of the organization. Mr. Bixby was named Executive Director of the Concord Coalition in 1999, after serving as the organization's Policy Director, National Field Director, and in other capacities since 1992. He frequently represents Concord's views on budget and entitlement reform policy at congressional hearings and in the national media.
Mr. Bixby has a bachelor's degree in political science from American University in Washington, D.C., a JD from George Mason University School of Law in Arlington, Va., and a master's degree in public administration from the John F. Kennedy School of Government at Harvard University. Prior to his work with the Concord Coalition Mr. Bixby practiced law and served as the Chief Staff Attorney of the Court of Appeals of Virginia.
Date and time
Location
Morrison Commons, Rockefeller Center
2 Webster Ave
Hanover, NH 03755
Organizer of Student Dinner with Bob Bixby
The Nelson A. Rockefeller Center for Public Policy and the Social Sciences at Dartmouth College fosters a commitment to the ideals of public service, leadership, and informed civic engagement exemplified by the man for which the Center is named, Nelson A. Rockefeller. The Center endevors to inspire and energize students to become effective leaders in their communities & to cherish and participate in democracy. Connect with us online!