Student Dinner with Ambassador Akbar Ahmed

Monday, April 27, 2015 from 6:45 PM to 7:45 PM (EDT)
Event Details
Student dinner with
Ambassador Akbar Ahmed
Ibn Khaldun Chair of Islamic Studies, School of International Service, American University
Former Pakistan High Commissioner to the U.K. and Ireland

Rockefeller Center Class of 1930 Fellow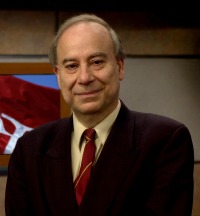 Monday, April 27, 2015

6:45-7:45 PM
Morrison Commons, Rockefeller Center
Prof. Shambaugh will be participating in the Class of 1930 Lecture, "Islam and the West: Dialogue or Clash of Civilizations?"earlier that afternoon at 5:15 pm, in Filene Auditorium, Moore Hall.

Lecture Description:
Given recent events in Paris with the tragic murder of the Charlie Hebdo cartoonists, the argument that there is an inherent clash between the Western values and Islam has gained new fervor. Ambassador Ahmed will explore Samuel Huntington's thesis of a clash of civilizations, a thesis which took on renewed life after the events of 9/11. Ambassador Akbar Ahmed will offer a counter to this argument in light of his own research--a quartet of studies examining relations between West and the world of Islam after 9/11. Rather than an inherent clash, Ambassador Ahmed will argue that what is needed is a dialogue of civilizations in order to move beyond the misunderstanding of different religions and cultures which is so prevalent today.
Speaker Bio:
Ambassador Akbar Ahmed is the Ibn Khaldun Chair of Islamic Studies in the School of International Service at American University in Washington, D.C and the former Pakistan High Commissioner to the U.K. and Ireland. Previously, Ahmed was the Iqbal Fellow (Chair of Pakistan Studies) and Fellow of Selwyn College at the University of Cambridge. He has also taught at Harvard and Princeton Universities. He is the author of over a dozen award-winning books including an unprecedented quartet of books examining relations between the West and the World of Islam after 9/11: Journey into Islam: The Crisis of Globalization (Brookings 2007); Journey into America: The Challenge of Islam (Brookings 2010); The Thistle and the Drone: How America's War on Terror Became a Global War on Tribal Islam (Brookings 2013); and Journey into Europe: Islam, Immigration, and Empire (forthcoming). Ahmed is also a published poet and playwright.
When & Where

Morrison Commons, Rockefeller Center
2 Webster Ave
Hanover, NH 03755


Monday, April 27, 2015 from 6:45 PM to 7:45 PM (EDT)
Add to my calendar
Organizer
The Nelson A. Rockefeller Center for Public Policy and the Social Sciences at Dartmouth College fosters a commitment to the ideals of public service, leadership, and informed civic engagement exemplified by the man for which the Center is named, Nelson A. Rockefeller. The Center endevors to inspire and energize students to become effective leaders in their communities & to cherish and participate in democracy. Connect with us online!