Description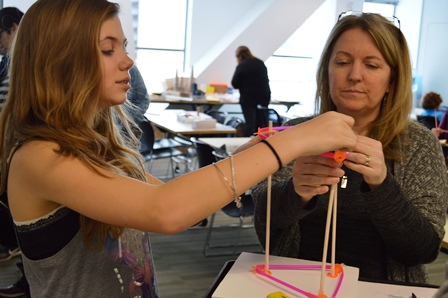 Student Design Days @BSA Space Age 12-15 introduce students and adults to design, architecture and hands on model building. We are offering a series of 4 classes in the fall of 2016 at our space in downtown Boston. Student Design Days encourage children and adults to observe, explore and design together. In these 2.5 hour hands-on workshops, students and their parents are introduced to architecture and design through exhibit tours or slide shows, and then work together to complete a hands-on design activity - drawing and/or building with basic art materials. Classes culminate in student presentations. Architects Polly Carpenter FAIA and Amy Ohman lead this program.
This program is designed for children and parents to work together but if your child would prefer to work without you, that is fine as well.

You may sign your child up for the series, or individual classes. Registration is limited.
Fridays 10:00 AM - 12:30 PM
Fall Theme: City Life
September 9: Urban Design and Planning. Inspired by the Imagine Boston 2030 master plan currently underway by the City of Boston, we will learn what urban designers and planners consider when they are tasked with planning for the future and then lay out a neighborhood that meets the needs of the city. Each young designer will then choose a building from our plan and develop a design brief. Skills focus: scale, schematic design, drawing.

October 14: Systems Thinking. Using this year's Canstruction theme, Journey Into Space, we'll think about how natural and manmade environments create systems to sustain themselves. We will tour the exhibit, then use recycled materials to develop our own ecosystem that could sustain humans in the future. Skills focus: design development, building.
November 11: Bridge Design. We will look at the infrastructure that supports our cities and then design and build a bridge for a real site: the Northern Avenue bridge. Skills focus: real-world problem solving, building, testing.

December 9: Housing. Housing is the predominant building type in any city. We will use the exhibition One Room Mansion which explores compact living as a viable and necessary 21st-century residential dwelling option for people of all ages and incomes and then come up with our own ideas for small scale living. Skills focus: drawing, presentations.
Your registration includes acceptance of our photo release and consent policy.