Student coffee hour with Stanford Law Professor Pam Karlan

Monday, February 6, 2017 from 3:30 PM to 4:30 PM (EST)
Event Details
Student coffee hour with Pam Karlan

Professor of Public Interest Law and Co-Director, Supreme Court Litigation Clinic, Stanford Law School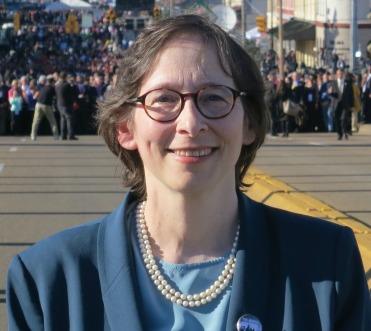 Monday, February 31, 2017

3:30-4:30 PM

Morrison Commons, Rockefeller Center

The Rockefeller Center is hosting this student coffee hour with Prof. Karlan before her public event, "Rights and Rites: The Supreme Court, Voting, and Marriage Equality" on Monday, February 6, at 5:00-6:30 pm, in Rocky 003.

Speaker Bio:

Pamela S. Karlan is the Kenneth and Harle Montgomery Professor of Public Interest Law and co-director of the Supreme Court Litigation Clinic at Stanford Law School. Her primary scholarly interests involve constitutional litigation, particularly with respect to voting rights and antidiscrimination law. She has published dozens of scholarly articles. She is also the co-author of three leading casebooks and a monograph on constitutional interpretation: Keeping Faith with the Constitution.
Karlan received her B.A., M.A., and J.D. from Yale. After clerking for Supreme Court Justice Harry A. Blackmun, she practiced law at the NAACP Legal Defense and Educational Fund. During 2014 and 2015, she served as a Deputy Assistant Attorney General in the Civil Rights Division of the United States Department of Justice, where she received the Attorney General's Award for Exceptional Service for work in implementing the Supreme Court's decision in United States v. Windsor and the John Marshall Award for Providing Legal Advice for work in guiding the department to its new position regarding Title VII and gender identity. Karlan is a member of the American Academy of Arts and Sciences, the American Academy of Appellate Lawyers, and the American Law Institute.
When & Where

Morrison Commons
Rockefeller Center
Corner of North Main and Webster Sts.
Hanover, NH 03755


Monday, February 6, 2017 from 3:30 PM to 4:30 PM (EST)
Add to my calendar
Organizer
Nelson A. Rockefeller Center for Public Policy and the Social Sciences at Dartmouth College
The Rockefeller Center for Public Policy at Dartmouth College is a catalyst for teaching, research, and deliberation about public policy. Dedicated to providing an interdisciplinary perspective on policy-related topics, the center fosters a commitment to the ideals of public service and informed public debate exemplified by the man for which the Center is named, Nelson A. Rockefeller.
The Center inspires and energizes students to become effective leaders in their communities & to cherish and participate in democracy.
Connect with Rocky online!
Student coffee hour with Stanford Law Professor Pam Karlan