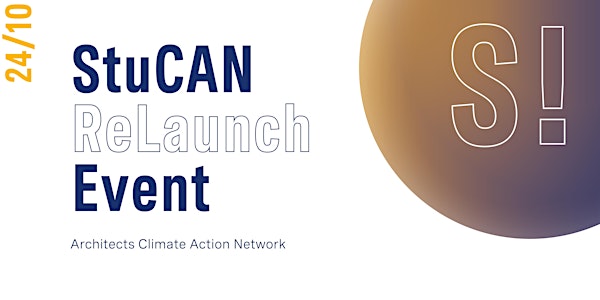 StuCAN RELAUNCH!
Join StuCAN and ACAN Education group for the 2022/23 academic year network RELAUNCH!
About this event
On Monday 24th October, 6.30-7.30pm [BST], StuCAN and ACAN Education are hosting an event to facilitate, orientate and re-energise our Student Climate Action Network at the start of the new academic year.
Are you in a student climate action group looking to connect with others?
Thinking of starting a climate action group at your university?
Taking over a climate action group from recently graduated students?
Are you wondering if a student climate action group still even exists?
Or are you an educator looking for ways to support student voice and empowerment at your institution?
Maintaining and building momentum is a real challenge in student action and we welcome both students and tutors who want to be part of this.
The event will kick off with a call-to-action by Scott McAulay, founder of the Anthropocene Architecture School. We will hear from students and recent graduates sharing their experiences of starting or sustaining climate action groups, as well as sharing ACAN and StuCAN resources. There will be time for discussion and any questions you have about taking part in StuCAN.
We also want to hear from you!
Please get in touch if you are a student or recent graduate and would like to contribute to the event – to learn more about hosting and planning events, to share a success or challenge of being a climate activist, or to share advice on being part of StuCAN or an idea you want to collaborate across institutions with. There will be a call-out at the start of the event as well – this can be short and informal.
We hope this event will help inspire you for the year ahead!
-------------------------
Please make sure you register, as an event link will be emailed to you via Eventbrite closer to the date.
We hope you can join us for what is set up to be a stimulating session and a great chance to connect with others!
StuCAN and ACAN
architectscan.org/stucan / @architectsCAN_student / education@architectscan.org
-------------------------
About StuCAN
StuCAN - the Students Climate Action Network - is a branch of ACAN that supports a growing number of student-led climate action groups based in institutions across the UK and beyond.
By connecting students of the built environment and supporting student voices in wider discussion of the climate and ecological crises with educators and regulatory bodies, StuCAN creates a platform for increased student agency and cultural transformation.
About ACAN
ACAN is a network of individuals within architecture and related built environment professions taking action to address the twin crises of climate and ecological breakdown.
The profession is not responding quickly enough to the climate emergency. As a network of individuals, ACAN directs personal expertise and singular efforts towards a common goal - systemic change in the profession and the construction industry at large. ACAN operates without commercial affiliations or support, allowing the network to act at pace and with autonomy. Through collective action, ACAN is working to demand, instigate and propagate the transformation of the construction industry.
ACAN is driven by three aims:
1. Decarbonisation now
2. Ecological regeneration
3. Cultural transformation
More about ACAN's activities and aims be seen here