Description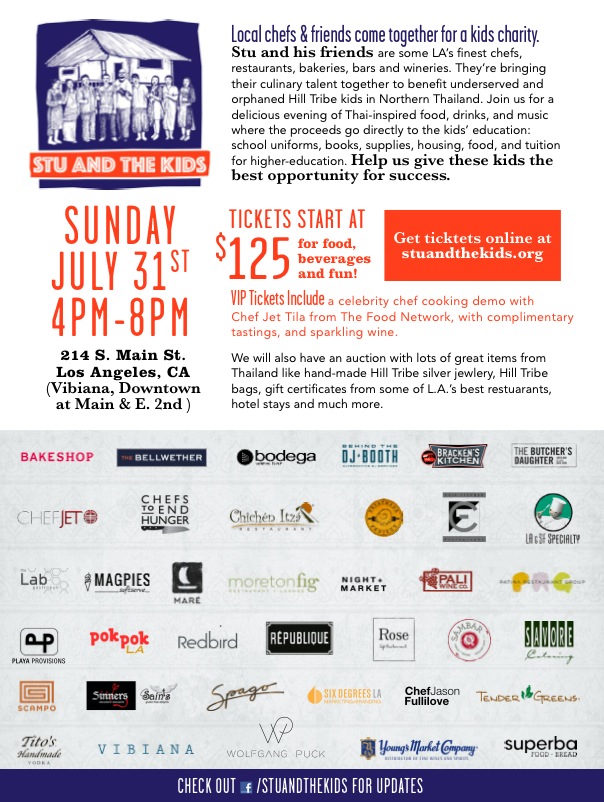 Stu and The Kids fundraiser is going to be an amazing culinary experience celebrating the flavors of Thailand. Thai-inspired food and beverages will be served, there will be music and a very eclectic auction. Los Angeles' most well known restaurants and chefs will be gathering to showcase their take on Thai-style food. All of the proceeds from this event will be used towards sponsorship for university education to help underserved and orphaned Hill Tribe kids in Chiang Mai, Thailand.
Certain circumstances in life compels me to say that there isn't a better cause for the underprivileged than "higher education". Stu and the Kids core focus is to offer a better chance in life for the under-served and orphaned graduating from high school from the Wat Don Chan school-orphanage in Chiang Mai where currently 600+ abandoned children take refuge. Though the temple takes them in, gives them a dorm to live in, meals and a primary education, each kid, however, is on their own once they become of age.

Stu volunteers at the Wat, granting some privileges to build rapport with the orphans. Through his close relations to the kids, his offer to help provide for a university education is one that no kid with a dream could refuse. If a kid could envision a brighter future for himself, or herself, I believe it benefits society in a great way when we can help provide a path. These special kids just need a bit of help to change their lives and in many cases the lives of their families and villages. We have had 4 kids graduate already, 8 kids in school now and hoping to add 8 more this year. A little goes a long way! For as little as $3250 a year, 1 kid can attend university and this includes everything to set them up for success, tuition, uniforms, books, room and board.
Here is a list of some of the Chefs and restaurants involved this year are: Neal Fraser from Redbird/Vibiana, Eric Greenspan from Maré, Brooke Willamson and Nick Roberts from Playa Provisions, Akasha Richmond from Sambar, Connor Shanahan from Wolfgang Puck Catering, The Ensaymada Project, Gilberto Cetina from Chichen Itza, Walter Manzke from Republique, Ted Hopson from The Bellwether, Pok Pok, Kris Yenbamroong from Night+Market, Jason Neroni from The Rose Café, Warren & Rose Schwartz from Magpies Softserve, Savore Catering, Tender Greens, The Butchers Daughter, Patina Catering, Sinners & Saints, Chef Jason Fullilove, Moreton Fig and The Lab Gastropub, Gary Menes from Le Comptoir, chef Bill Bracken of Bracken's Kitchen, Tetsu Yahagi from Spago Beverly Hills and celebrity chef Jet Tila. We even have chef Lydia Shire of Scampo flying in from Boston with some of her team.
This year, our cocktail list will be top-shelf. We will be a featuring a Thai-flavored cocktail made with Tito's Handmade Vodka, Bodega Wine Bar will be serving Singha Thai beer, Pali Wine Co. from Santa Barbara will be serving a crisp & refreshing wine, and Youngs Market has secured 3 other amazing wineries and some cider. Of course, we are bringing back our our famous Thai iced tea and fresh coconut bar!
We will also have an auction with lots of great items from Thailand like hand-made Hill Tribe silver jewlery, Hill Tribe bags, gift certificates from some of Los Angeles best restuarants, hotel stays and much, much more.
*VIP tickets include food and beverage as well as a celebrity chef cooking demo with Chef Jet Tila from The Food Network, with complimentary tastings, and sparkling wine. Please arrive in front of Vibiana at 2:15 to grab a seat, the demo starts at 2:30 pm, sharp. There are a very limited amount of VIP tickets available so get them early!
Thank you so much for your continued support, Stu and The Kids are grateful.