Description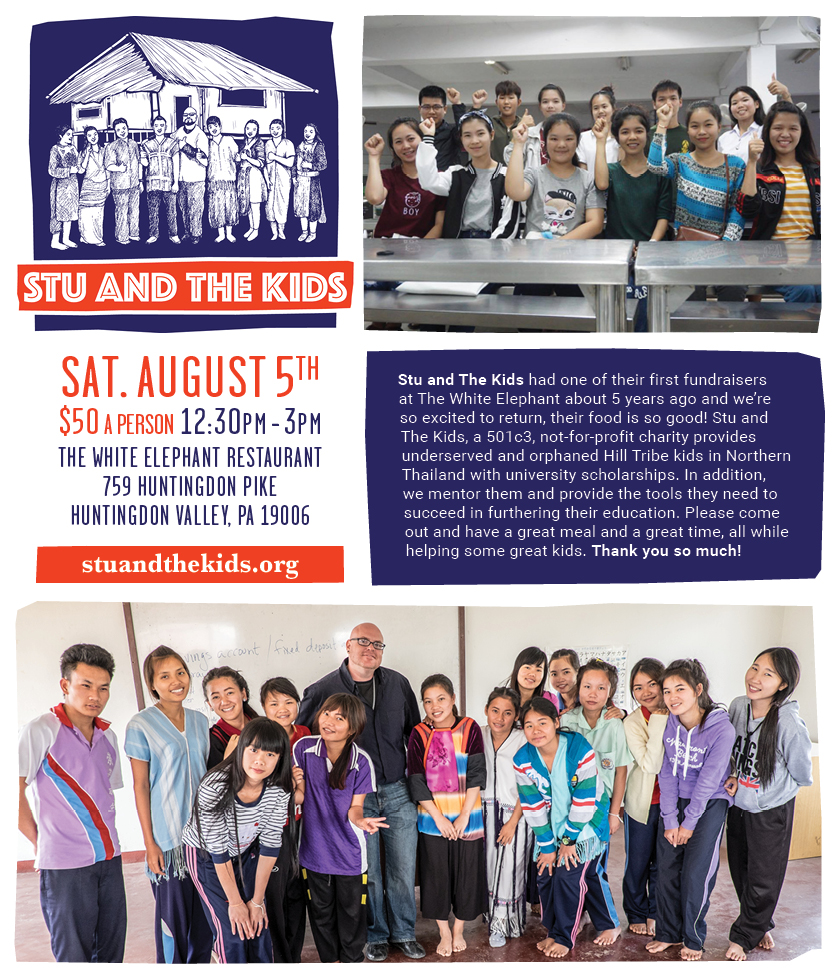 This year our Philly fundraiser is going back to where it all started, The White Elephant restaurant. We had our first fundraiser there about 5 years ago and I am so excited to return, their food is so good and have very kind folks that run the place. Stu and The Kids, 501c3 benefits underserved and orphaned Hill Tribe kids in Northern Thailand. We provide them with scholarships for 4 years of university and all of the tools to help keep them successsful when it comes to furthering their education.
Join us for a delicious family-style lunch that will include Chicken Satay, Corn Cakes, Stir-Fried seafood, Thai-curry with beef, Pad Thai, Ginger Chicken, Banana Sringrolls with coconut ice cream and much, much more. We will also have a silent auction with great items and some items are even handmade from Thailand.
Come learn about these amazing kids that just need a bit of help for a better life. The proceeds go directly to the kids' tuition for higher education: school uniforms, books, supplies, housing and food. Help us give these Hill Tribe kids the best opportunity for success. (If you are unable to join us please feel free to contribute at www.stuandthekids.org/how-you-can-help/ ).
Thank you so much for your continued support, Stu and The Kids