Location
Stilettos (Cherry Hill Mall - Suite 2175)
2000 Rte 38
Cherry Hill, NJ 08002
Description
Have you ever purchased a pair of shoes only to have them sit in your closet because you have no idea how to walk in them? Or given up on a pair of shoes because they hurt your feet after only a hour of wear? Do you know the best way to break in a new pair of pumps? Or how to strut your stuff in 2-, 4-, and 6-inch heels? Are you curious about hottest shoe trends for spring, summer, and fall 2013?
Well look no further!

&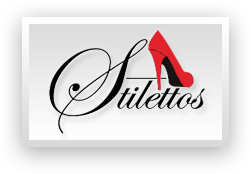 have got you covered!
Join Your Chic is Showing (YCS) and Stilettos for the first ever, "Strut Your Stuff," an afternoon of sips, snacks, style, and shoes!
At Strut Your Stuff you can practice tackling the runway or the hallway in those hard to manage heels, figure out the best outfits for your favorite kicks, and learn about the hottest shoe trends for 2013.
Check out the schedule below:
2:00 pm - Registration/Check-in
2:15 pm - Runway/Walking Teaching Session
2:35 pm - Group Q&A and Styling Session
3:00 pm - Shopping & One-on-One Q&A and Styling
This event is free to everyone and we welcome you and ALL of your favorite girlfriends to join us! And, best of all, Stilettos is offering everyone who attends a 10% discount on all purchases!
Ready to join in the fun? All you and your friends have to do is register by Thursday April 25, 2013!
Be sure to check back often for more details about event sponsors and giveaways!
If you have any questions about the event or want to submit questions ahead of time for the Q&A, please email YCS at: info@yourchicisshowing.com.
We look forward to seeing you on Saturday March 16!!!
Your Chic is Showing,

FAQs
Are there ID requirements or an age limit to enter the event?
Nope! There is no age limit or ID requirement to join the fun! We only ask that all attendees age 18 years old or under come with an adult.
Where can I contact the organizer with any questions?
Simply email info@yourchicisshowing.com and someone (most likely YCS founder Erika) will get back to you within 24 hours.
Is my registration/ticket transferrable?
Yes, though we hope you won't have to cancel! To transfer your registration, simply email info@yourchicisshowing.com with the name and email address on the original ticket and a note informing us of the name and email address of the person who will attend in your absence.
Do I have to bring my printed ticket to the event?
We totally understand that modern women are busy and some things slip our minds. If you happen to forget your ticket, simply bring another form of ID and we'll make sure you're present and accounted for! We'll just be happy you're there, ticket or no ticket!