STRUT Into the Real YOU - 21 Day Challenge

Wednesday, January 2, 2013 at 1:00 PM (CST)
Event Details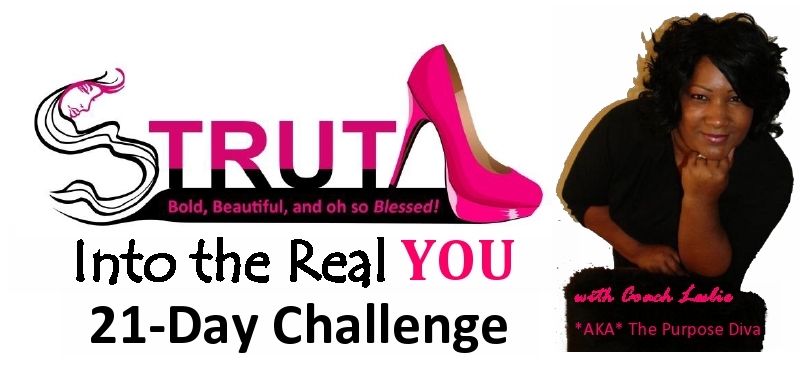 Discovering who you really are can be a scary thing especially after so many years of living in roles…mother, wife, friend, sibling, aunt, niece, confidant, BFF, employee, CEO, church member, you get the picture.
This is why I am so serious about this challenge.  I have been that woman. That woman who tried so desperately to be everything to everybody.  That woman who did not know how to say "NO" or "I need help."  Then it happened, I looked in the mirror and did not recognize the woman looking back at me but I could feel her pain, disappointment, weariness, and loneliness.
So, I took the challenge and started a journey to discover who I was and to become who I was created to be.  The woman speaking to you now is ME.
This is me sowing into your life.  This is me showing up as an answer to your prayers for encouragement, support and a gentle kick in the butt should you need it.  This is me reminding you that God sees and He cares. This is me saying, girlFRIEND I understand.  This is me saying, you have got to move past it.  This is me saying, they may not understand but move forward anyway.  This is me saying, love yourself enough to let them go. This is me saying, it's time to play a bigger game.
THIS IS ME SAYING "ACCEPT THE CHALLENGE AND TAKE A STEP"
The Challenge Overview:
• STRUT Call to Action call to answer questions, prep and pray prior to challenge.
• Daily InSTRUTions delivered to your inbox to keep you encouraged and moving forward.
• DEAL WITH IT worksheets delivered to you each week so that you can do the INNER Work.
• (4) 30 Minute STRUT Coaching Calls to support, encourage and empower.  (Fear not, calls will be recorded and made available to those who can not attend.)
January 2-22…YOU up to the Challenge?
Did I mention it was FREE…
Organizer
Coach Leslie Denman
Hi I'm Leslie.  Most people know me as The Purpose Diva.  I'm an author, Certified Life Purpose Coach, Licensed Minister and huge Dallas Cowboys fan!, and I proudly help women and girls connect their hearts, faith and minds to achieve amazing things.
I help women and girls live in purpose, on purpose and create prosperity (cha-ching!) while living out what they were called to do.
VISIT