Sales Have Ended
Registrations are closed
If you missed a session, you can still check out these award-winning books: Designing International Partnership Programs: A Primer for Partners (2019) Structuring International Partnership Programs: A Book for Builders (2021) by Andrea E. Stumpf; available on Amazon
Sales Have Ended
Registrations are closed
If you missed a session, you can still check out these award-winning books: Designing International Partnership Programs: A Primer for Partners (2019) Structuring International Partnership Programs: A Book for Builders (2021) by Andrea E. Stumpf; available on Amazon
International partnerships are like life: They need balance. If you're building one, or the one you have is off-kilter, come join us!
About this event
Wednesday, February 9, at 12 PM ET:
Make your foundation contextual and flexible enough to keep the balance.
​​ It's All in the Balance: Building Firm Foundations
​Foundations are fundamental for international partnership programs. We don't need parables to explain the value of firm foundations, but foundations also need to fit the context - to build into the hills. And they need flexibility - to weather the waves and even earthquakes. Foundational strength and contours come from a variety of sources. You have choices to make, options for strengthening, and ways to stabilize. Let's talk about how to build a fit-for-purpose firm foundation.
*****
It's back! Structure 15/15, where we talk about sustainable, efficient, and impactful structure and design for international partnership programs. That's 15 minutes of presentation followed by 15 minutes of conversation. Topics are taken from my award-winning books.
Series Two is about BALANCE - another 7 sessions on 7 new topics: sweet spots, critical mass, center of gravity, foundations, buttresses, strong core, and incrementalism. I scan the landscape to give you some concepts and considerations; you bring your experience, examples, questions, and ideas; together we share tips and create insights. It's practical, plain English, and empowering. Just what your partnership needed!
We meet up virtually on the second Wednesday of every month, from November to May, at 12 noon ET. It's only half an hour, or stay longer if you have the time.
November 10, 2021: SESSION 8 - Finding the Sweet Spot
December 8, 2021: SESSION 9- Creating Critical Mass
January 12, 2022: SESSION 10 - Locating the Center of Gravity
February 9, 2022: SESSION 11 - Building Firm Foundations
March 9, 2022: SESSION 12 - Building Buttresses
April 13, 2022: SESSION 13 - Strengthening the Core
May 11, 2022 - SESSION 14 - Incrementalism and Innovation
*****
PREVIOUSLY:
// Wednesday, January 12, 2022:
If you're an active partnership, you'll need a stable center of gravity to stay balanced.
​​ It's All in the Balance: Locating the Center of Gravity
​The center of gravity has an oversized effect on the rest of the partnership. Where you put it – in the governing body, in the supporting entity, or somewhere else – affects your culture and operations. How it relates to the whole determines if the partnership program is sustainable over time. Find out how partners can be deliberate about their center of gravity. Learn how to find your center of gravity to mind your balance.
// Wednesday, December 8, 2021:
Ahoy! Critical mass is the ballast that keeps your partnership program afloat.
​It's All in the Balance: Creating Critical Mass
As a measure of balance, creating and keeping critical mass is a key to partnership stability and sustainability. What is it? How does it manifest? How do you know when you have it? How can you get it? International partners who can answer these questions have their hands on the tiller for smooth sailing, even in choppy seas. This isn't just physics, it's partnership pragmatics.
// Wednesday, November 10, 2021:
Partnering starts where you find the sweet spot - and continues when you keep it sweet.
​It's All in the Balance: Finding the Sweet Spot
Can you spot the sweet spot? International partnership programs are voluntary. Partners have to be motivated to join. They need incentives to engage. And they need to see benefits to stay on board. What brings and holds them together is a threshold question - motivations can differ, but you need enough sweet spot to create sustainable collectives. Learn how to spot the sweet spot and help it grow. We'll share some examples.
// More at structuredpartnerships.com, where your international partnerships find their structure. Books available here. Send queries to andrea@structuredpartnerships.com.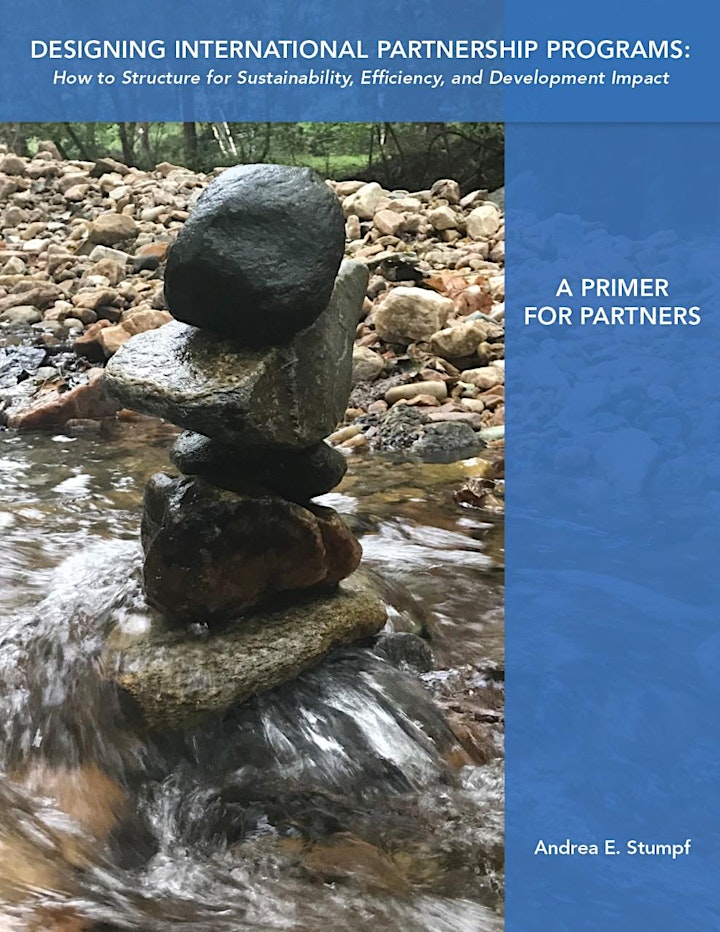 Organizer of Structure 15/15: Talk About International Partnership Programs!
The 15/15 Sessions: It's Practical, not Technical - Advice on Structuring International Partnership Programs
15 minutes of presentation followed by 15 minutes of conversation to unpack a specific topic related to structure and design of international partnership programs, including partnering dimensions of international trust funds.