Description
StrongFirst RESILIENT—Ashburn, VA

Develop your "in between" strength. And improve your readiness for sport and life's unpredictable situations.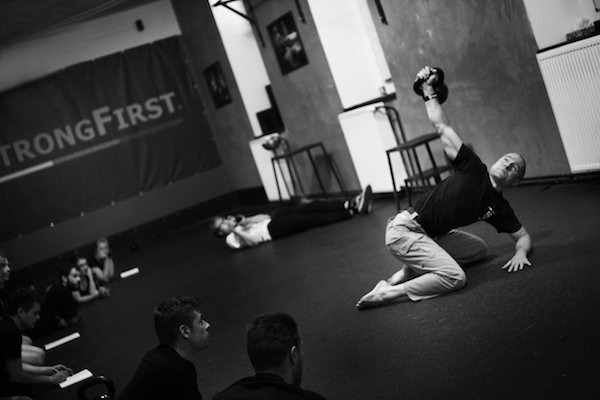 What Is StrongFirst RESILIENT?
Developed by Pavel Macek, Master SFG, StrongFirst RESILIENT distills Pavel Tsatsouline's bevy of innovative drills into a comprehensive, systematized program focused on the best, most productive, and game-changing moves.
Learn and practice unconventional exercises that will:
Boost your capacity to withstand unpredictable stresses—angles, ranges, leverages and loads—by correcting weak links, improving your range of motion, and expanding your current ROM

Reduce your risk of potential injury with "imperfection training" and by building "in between" strength

Improve your capacity for moving well and moving strong outside the gym environment: in your sport and everyday life.
StrongFirst RESILIENT gets us out of our regular groove, going beyond conventional "correct" technique to expand our comfort and buffer zones. We explore the edges of our abilities safely, step-by-step, with a clear aim and purpose. Get ready to gain from orderly disorder.
Click HERE for more details.

What You Will Learn
In this special one and a half day workshop, you'll learn our top exercise picks, accessory drills, progressions, and movement variations to make you RESILIENT:
Hack Squat builds on the Simple & Sinister's kettlebell goblet squat foundation.

Jefferson Curl/Hockey Deadlift challenges the S&S deadlift rules.

RESILIENT Get-up Series explores "incorrect" positions in the RESILIENT Armbar Series and goes beyond S&S's basic get-up standard for added variation.

Hanging Series teaches the straight-arm pull counterpart of the get-up's straight-arm push.

Gymnastic Bridge Series

covers hollow position counter-stretch progressions and provides an antidote to today's seated

Neck Series focuses on direct neck strengthening, important for more than just collision lifestyle sport athletes.
Please visit our StrongFirst RESILENT page for more details.

---
COURSE INSTRUCTOR
Pavel Macek, Master StrongFirst Certified Instructor

LOCATION
Old Glory Gym
44645 Guilford Drive
#211
Ashburn, VA 20147
SCHEDULE
9am to 6pm Saturday, with a lunch break between 1-2
9am to 2pm Sunday
*check-in begins at 8:30am
LANGUAGE
This course will be presented in English.

CONTACT
Email us with any questions.


---
CANCELLATION AND REFUND POLICY:
Registration fees are non-refundable. No refunds will be granted.
Exceptional circumstances will be reviewed and determined on a case-by-case basis by StrongFirst, Inc.
Registrants may transfer their registration to another person for no fee.
---

KEEP YOUR CERTIFICATION CURRENT
You put in the time and effort to earn your StrongFirst Instructor status; don't let it slip away!
Renew your StrongFirst Instructor Certification* (SFG, SFG II, SFL and/or SFB) at no additional cost when registering for one of our Special Events. Select your cert(s) you wish to retest within the registration form.

*Must hold a current certification to be eligible. Registration spots are limited.
Be ready. Be up to date. Be StrongFirst.