Description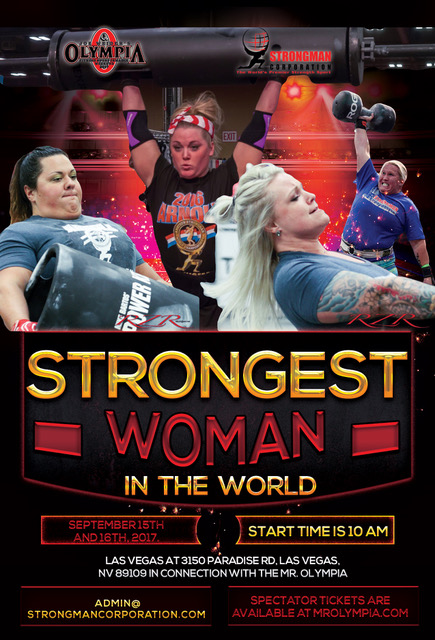 The hotel is the Orleans Casino for 100.00 per night with group code A7MRC09 or the online link is http://www.orleanscasino.com/groups# (Transportation is provided to and from the convention center via the Orleans Hotel.
Mandatory Weigh ins/Check in 10-1 and 2:30-5:30 at the "Board Room" (Orleans Casino) Rules Meeting 6:30 pm at the Board Room
This event is for current Pro Strongwomen Only *All entries received are non-refundable*
EVENTS:
Bartos Log Clean and Press

LWW150
MWW175
HWW200

Fatback Farmers - 60 second time limit - Athlete must carry farmer's walk implement 30 feet and perform 4 deadlift reps with the farmer's implement, then carry 30 more feet to the finish line and perform 4 more deadlift reps for time. The athlete will be given a down call on the deadlift.
LWW180
MWW210
HWW240

Bartos Keg Over Bar

LWW200
MWW230
HWW260

Arm over Arm Pull TBD
LWW
MWW
HWW

Axle Deadlift for reps from floor. Straps allowed

LWW325
MWW375
HWW425