Sales Have Ended
Registrations are closed
Thank you for supporting the 15th Annual World AIDS Day Breakfast! We look forward to seeing you on November 30th.
Sales Have Ended
Registrations are closed
Thank you for supporting the 15th Annual World AIDS Day Breakfast! We look forward to seeing you on November 30th.
Description
Join us for the 15th Annual Stronger Together: World AIDS Day Breakfast on November 30 at the Embassy Suites in the King Street Ballroom.
Registration begins at 7:30am and the program beings promptly at 8:00am.
We will celebrate Seattle's ongoing leadership in the fight against HIV and AIDS, and share how our organizations are investing in emerging needs and trends throughout King County. Seattle is the first city in the world to reach the World Health Association's 90-90-90 goal, where 90 percent of residents infected with HIV know their status, 90 percent of those living with HIV are on HIV antiretroviral treatment, and 90 percent of those on treatment are virally suppressed.
Together, let us make the strongest impact we can by exceeding last year's donations of more than $100,000.
Funds will benefit three of Seattle's leading providers of prevention, care and support to individuals living with and at risk for HIV/AIDS: Gay City: Seattle's LGBTQ Center, Seattle Counseling Service, and CareTeams of Samaritan Center of Puget Sound.
Breakfast will be served to all attendees. If you have any dietary restrictions, please note when registering.
Tickets
Free (Suggested Donation $200)
Deadline to reserve your seat is Wednesday, November 28th, 11:59 PM.
To RSVP:
Select the green "Register" button
Search for your Table Captain (in order by organization and then Table Captain last name)
Select the number of seats from the drop-down menu on the right
Click "Checkout" and complete the RSVP procedure
Parking & Transportation
For nearby parking locations and rates, please visit downtownseattleparking.com.
International District/Chinatown Light Rail Station stop is located 0.2 miles away from the King Street Ballroom at Embassy Suites. See directions here.
Keynote Speaker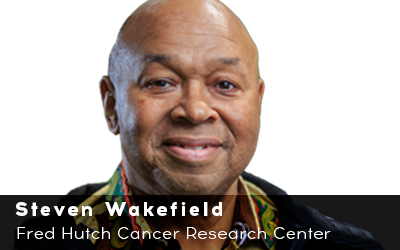 Steven Wakefield, or "Wakefield" as he prefers to be called, is an HIV-negative health care advocate with over thirty years of involvement in projects that increase community participation in HIV prevention research and ethics. Currently, Wakefield participated in the global search for an HIV vaccine as the External Relations Director for Fred Hutch's HIV Vaccine Trials Network (HVTN). He also founded The Legacy Project, HVTN's program to increase racial and ethnic population involvement in trials.
Wakefield is now on the Board of Directors of the Pride Foundation. He initially volunteered with the Pride Foundation as a scholarship reviewer and as a donor. He notes, "There is nothing more heartwarming or heartbreaking than connecting with LGBTQ persons, strengthened by their struggles to creatively find ways to build useful and generous lives. Stories of their quests for higher education always move me to tears, laughter, hope, and inspiration. The love Pride Foundation shows is always reflected in these exchanges."

In addition to his role at HVTN & Pride, Wakefield also serves on AVAC: Global HIV Prevention Board. Working in HIV over 35 years Wakefield is excited about this current time for implementation of evidence-based strategies to end the epidemic. The years before moving to Seattle provided Wakefield with an opportunity to work with youth experiencing homelessness.
2018 Honorees
Carol Sterling
Carol was among a group of lesbians who in 1985 created a project called Blood Sisters Seattle as a response to community grief, fear and anger related to GRID/ARC and what we now know as AIDS.Her activism was equally committed to creating both a political, and a "greasy elbow" practical response to the crisis. She believes changing sheets and driving people to the doctor is not only compassionate but that they are the actions of revolutionaries as well.
She was fortunate to take over leadership of Chicken Soup Brigade (CSB) in early 1987 from visionary, devoted volunteers of the Seattle Clinic for Venereal Health—aka Seattle Gay Clinic- and she helped shape CSB into one of Seattle's most respected social service agencies. Serving as CSB's executive director until 1995 she saw, and took part in, the political, cultural, and service provision tsunami that AIDS brought during the early years of the epidemic.
She also served the LGBTQ community as co-chair of several Freedom Day Pride Parade and Rally events and as a delegate to the National March on Washington. She served on many community boards and committees including the Pride Foundation, The Tacky Tourist Clubs of America-Seattle Chapter and Seattle Counseling Service. Carol is proud to have been a part of the "olden times" and cannot wait to see what the new days will bring for the world.
She absolutely knows that the staff, the volunteers, and the allies in the continuum of care which Seattle so brilliantly adopted, are truly heroines and heroes with a touch of sainthood thrown in too. She is also very grateful for critics who wanted and needed more from our agencies and groups. The revolution was publicized.
Carol says, "We didn't do everything perfectly, but what we did do was amazing."
Carol holds a BA from The Evergreen State College and after all these years, a purse.
Chad Goller-Sojourner
A Seattle-based writer, educator, storyteller, solo-performer, and recipient of a distinguished Artist Trust Washington State Arts Commission Performing Arts Fellowship. His work has been funded by the National Endowment for the Arts and featured on NPR. In June of 2018, he debuted his third solo performance.
Unable to Attend?
You too can make an impact on the battle against HIV and AIDS by donating at http://bit.ly/StrongerDonation.

---