Multiple Dates
Stronger Together - Adventures in Mindfulness & Improv
Description
Let's face it, the day to day stresses of life on Earth these days can feel overwhelming. How do we cope with the stress, find the strength to navigate difficult times, and experience more joy in living?
Mindfulness and improv? We know - it is hard to explain!
Join us for one or more monthly sessions where you will:
Be in the moment

Have fun

Connect with nice people
Each session will have new activities. All take place in a safe, friendly environment where you can exhale, laugh, and leave feeling stronger together!
Who We Are
Beth Boynton, RN, MS is an author, speaker, and improv teacher. Liz Korabek-Emerson, MFA is a certified mindfulness teacher, coach, and theatre artist. They are the co-creators of Fiercely Human workshops that help staff work smarter - together.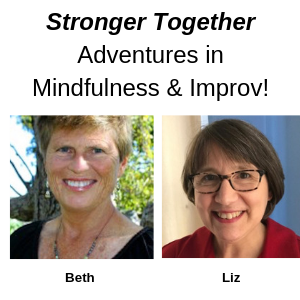 Casual/comfortable dress.
Cost $35* - Includes Pizza and H20!
*If financial limitations are a barrier for any PILL classes, please contact me to discuss - beth@bethboynton.com
Presented Boynton Improv Education (DBA PILL-Portsmouth Improv Learning Lab) and Korabek Training
Here's what participant, Joanne Hardin had to say after a recent class!
Contact Liz (liz@korabektraining.com) or Beth (bbbboynton@gmail.com - (603) 205-3509) with any questions!