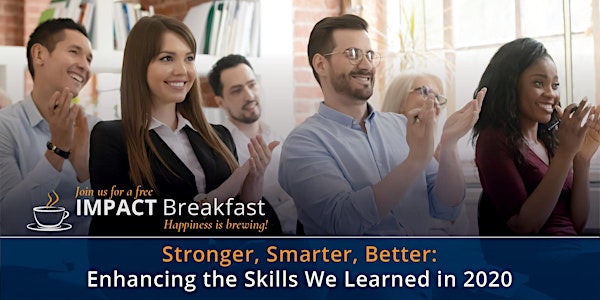 Stronger, Smarter, Better: Enhancing the Skills We Learned in 2020
Join us for a virtual breakfast as we celebrate the end of 2020 and focus on how to keep building up those skills we've learned!
About this event
It's the moment we've all been waiting for: 2020 is finally over! While 2020 was certainly a year to remember (but hopefully not one to revisit), it's time to celebrate the end of this particularly stressful year and look forward to what 2021 has to offer. 2020 brought new skills and professional growth to our teams: we are all better Zoomers, have taken a new look at time management skills, have honed our active listening abilities, and more. However, it's important for us to sustain this growth and avoid falling back into our pre-2020 habits or pitfalls.
Join us for our Virtual Impact Breakfast webinar, where we will focus on how to become Stronger, Smarter, Better: Enhancing the Skills We Learned in 2020! You'll walk away with a variety of ideas on how to improve your team's skills, promote ongoing learning, and learn more about trends in workplace learning. So, grab a muffin, have your orange juice ready, and join us for a positive start to your day with this dynamic workshop!
About the Instructor: Paul Barton
Paul Barton is the owner and founder of Phoenix Public Speaking. He and his team offer business communication consulting, 1-on-1 coaching, seminars, and online workshops.Before launching his own business, Paul had a successful 20-year career leading communication teams at PetSmart, APS, Avnet, Phelps Dodge Corp., World at Work, America West Airlines and Hawaiian Airlines. Those experiences led him to write "Maximizing Internal Communications," which is the No. 1 book on employee communication. Paul is accredited by the International Association of Business Communicators (IABC) and he is a professional member of the National Speakers Association (NSA). He also is an adjunct communications instructor at Estrella Mountain Community College.