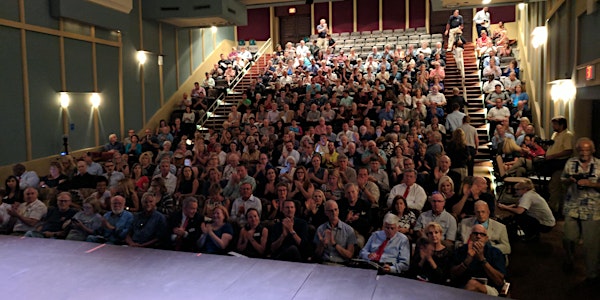 Strong Towns Gathering: North Texas
When and where
Location
Event1013 Event Space 1013 East 15th Street Plano, TX 75074
Refund Policy
Refunds up to 30 days before event
Description
Join Strong Towns in Texas to talk about all the ways each of us can work to make our places stronger, better places to live.

The North Texas Strong Towns Gathering is for you if you want to:
1. Connect with other people who care about the future of North Texas communities;
2. Learn how to make your town strong from leading experts from across America, and;
3. Create a unique action plan to solve the community challenges you care about most, and build the relationships you need to get it done.

We hope you join us.
---
Visit our NTX Gathering page for our full schedule, or view our schedule at a glance below:

Wednesday, October 3rd: Watch a Curbside Chat from Strong Towns President Chuck Marohn at the University of Texas Arlington. This core Strong Towns presentation reveals why so many of our communities are struggling to pay for basic services despite decades of seemingly robust growth. Please note: the curbside chat is free and open to the public, as well as all North Texas Gathering registrants; those who wish to register for the Curbside Chat only may do so after August 31st by selecting the Curbside Chat RSVP option below.
Thursday: October 4th: A full day of workshops, talks, film screenings and events with leading experts, including:
Charles Marohn, P.E., AICP — President and Founder of Strong Towns.
Giorgio Angelini, documentarian and director of Owned.

Derek Avery, Founder/President of Community Outreach Initiative for Redevelopment

Kristin Green, President of Placemakers Design

Amanda Popken, President of Amanda Popken Development
Kevin Shepherd, President and Co-founder of Verdunity
John Simmerman, President and Co-founder of the Active Towns Initiative
Curtistene Smith McCowan, Mayor of DeSoto, TX
Quint Studer, Studer Community Institute, and the author of Building a Vibrant Community: How Citizen-Powered Change Is Reshaping America.
Friday, October 5: A full morning of "next step" roundtables designed to help each registrant construct a unique action plan for the community issues they care about most.

---
Thursday and Friday events will be held in venues along Plano's 15th Street, a lively, walkable main drag that showcases the best of the Plano region. All venues will be fully accessible. Visit strongtowns.org/texas-gathering for further information on our schedule, lodging options, and transportation options.
All are welcome to attend the North Texas gathering. However, please be aware that the speakers and issues discussed will have a regional focus on North Texas. We plan to host three similar gatherings in other regions of the U.S. in the coming year; join our email list to find out more as the remainder of the series is announced.