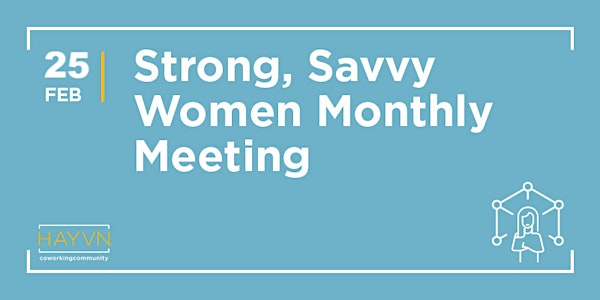 Strong, Savvy Women at HAYVN - Empowerment Group for Women in Transition, Divorced or Widowed
When and where
Location
HAYVN 320 Boston Post Road Darien, CT 06820
Description
STRONG, SAVVY WOMEN, Special Valentine's Event – Comedienne Michele Traina of Divorce Diaries!
Sponsored by Divorce Mediation Center of Ridgefield / Danbury
---
Tuesday, February 25, 2020, 7-9pm
We're thrilled that Hayvn is the home for a new women's empowerment group in Fairfield County! Strong Savvy Women is specifically for women who are divorced, widowed or going through a life transition. Its focus is moving forward - by supporting each other, learning from expert speakers, and having fun. Join us at HAYVN - and spread the word to women who may feel alone and could benefit from this group! Contact Amy Polacko for more information at amy@freedomwarrior.info We do ask that you not solicit your services at our meetings, on our website or in our Facebook group since the purpose of the group is to provide support and assistance to anyone going through a divorce or life transition.
This month's special guest is Michele Traina, bringing her comedy show, Divorce Diaries to Connecticut for the first time for our Valentine's event. Her one woman comedy show uses stand up and improv to 'laugh at life's beautiful mishaps'. Performed monthly in NYC, Brooklyn, and NJ Michele also tours around the country and was most recently performing a piece of it with Chippendales as a National Divorce Day celebration, motivating women and men to feel good through humor. Her show has been mentioned and reviewed by Chicago Tribune, Broadway World, and the Brooklyn Eagle. See https://divorcediariesshow.wordpress.com and follow her on Instagram!
Sponsored by Divorce Mediation Center of Ridgefield / Danbury. For more information on non-adversarial divorce options see www.divorcemediationct.com, and follow Rosemarie Ferrante on Facebook, Instagram and Twitter.
We'll provide beverages and some snacks for your enjoyment.
This event is part of a series of interactive educational workshops presented by HAVYN Coworking. The goal is to educate HAYVN members & guests on marketing, finance & technology strategies and tactics to grow their business. HAYVN presents these seminars on a regular basis as a way to educate and inspire their members.
Amy Polacko escaped the 9 to 5 to become a Freedom Warrior and has grown a multi-million dollar global wellness business. She is a graduate of Columbia Journalism School, a former TV reporter, and corporate public relations executive. Amy believes that magic happens when women get in the same room and has run networking groups for women. As a divorced single mom, she founded Strong Savvy Women as a community for single women where they can connect, grow and ultimately thrive as they move forward in their lives. www.freedomwarrior.info
CAN'T MAKE THIS EVENT?
Get on our email list for future event notifications
CURIOUS ABOUT HAYVN?
Book a tour

WANT TO SEE MORE?
View our full event calendar