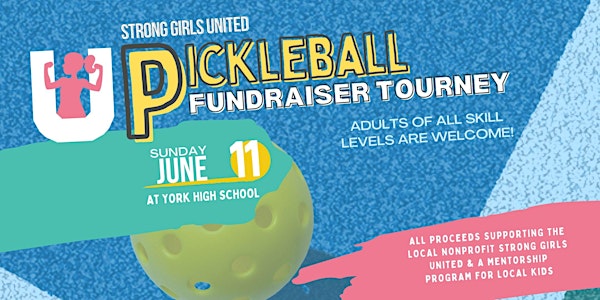 Strong Girls United Pickleball Tourney Fundraiser
All levels join us for our inaugural Strong Girls United pickleball fundraising round robin tournament!
Date and time
Sunday, June 11 · 7am - 3pm EDT
Location
York High School 1 Robert Stevens Drive York, ME 03909
About this event
Inaugural Strong Girls United Pickleball Fundraising Tourney!
This will be a very fun recreational fundraiser! We are using a tournament system called a Q Board! This provides structure so that everyone will get the same number of games and will get to play with multiple partners.
Register each individual that will play!
We will do this tournament in two waves. Each wave has space for just 16 people.
Wave 1: 7:00am - 11:00am
Wave 2: 11:00am - 3:00pm
Open to adults, all gender, all levels, 18+
There will be 2 winners for each wave!
You need to arrive at the start time indicated for your Wave. The end time is only an estimate and we may finish earlier.
How the tournament is structured:
Registration is for the individual (not as a team)! You will be assigned a number 1-16 and be placed on a court with 3 other people.
Games will go to 9, win by 2.
Each round you will stay on the same court with a group of 4 and play 3 games (1 game with each other person as your partner).
There will be 3 total rounds (for 9 total games each!!)
Points are tallied after each game and round on our "Q Board"
The top 4 scorers at the end of the 3 rounds will play in a finals match to 11, win by 2!
Stickers for all.
Winners will get prizes!
Not really sure about these rules? Don't worry. Lani will keep track of everything and tell you where to go and what to do. Just show up ready to play lots of pickleball and have some fun!

Donations:
We went with a smaller registration fee in order to plan some extra fun during the games too, with additional optional donations throughout. So bring your dollar bills or venmo for lots of laughs and.....
The $2 "swear" jar
The $1 "forgot the score" jar
Additional Fun:
Emma Silversides will be there for free babysitting or playing with any kids on the fields next to the courts!
Anthony's is donating coffee and muffins! <3
What will this support?
Strong Girls United is a nonprofit founded by York native Lani Silversides (Boardman). The organization's mission is to empower girls through sports, mentorship, and mental health programming. They work with colleges and universities around the country to teach and empower female athletes to mentor and coach girls in their area. They are launching in the fall the first ever state-wide Maine Female Athlete Leadership and Mental Health Conference as well as a new high school curriculum and program called "The Foundations." Fundraising from this event is going toward supporting new local initiatives, including launching a Mentorship program within York Schools where York high school girls will become trained by Lani to support 2-6th graders in need of a mentor throughout the school year and they will do mental skills and mental health related activities together.