Strong Girls, Strong Women Leadership Conference 2017
Actions and Detail Panel
Strong Girls, Strong Women Leadership Conference 2017
Sat, March 18, 2017, 8:00 AM – 2:30 PM PDT
Description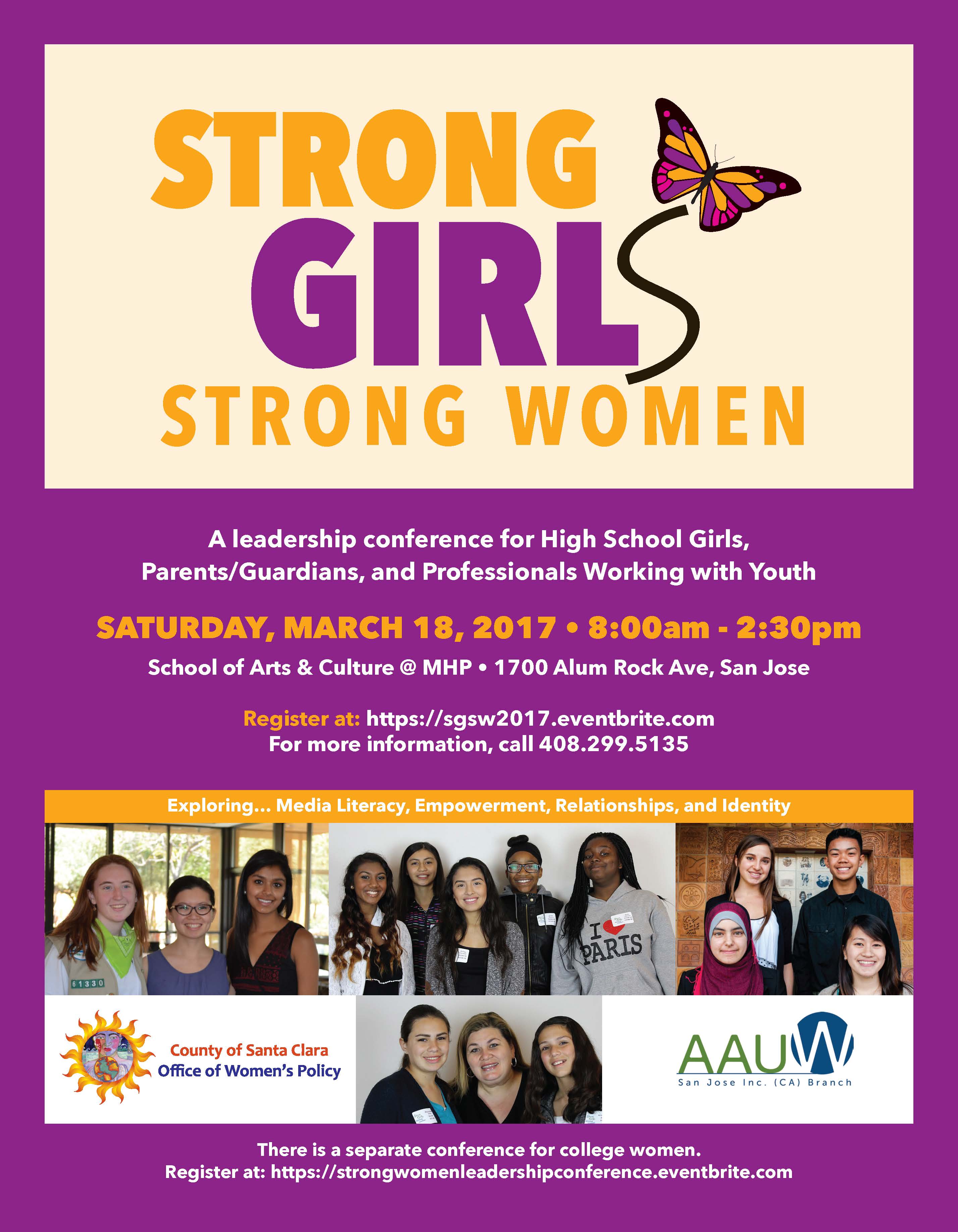 FIFTH ANNUAL
2017 STRONG GIRLS, STRONG WOMEN
LEADERSHIP CONFERENCE FOR HIGH SCHOOL GIRLS AND ADULT ALLIES
PURPOSE
The purpose of the Strong Girls, Strong Women (SGSW) leadership conference is to empower high school girls and their adult allies to be strong members and committed leaders of their communities.
CONFERENCE GOALS
The goals of this conference are to bring together women and girls from diverse backgrounds for dialogue and education about the state of girls in Santa Clara County. This includes:
A general session that serves as an anchor to the event;

Workshops focusing on major areas of need for girls and women: economics, education, health, violence against women and media literacy; and

Community resources including exhibitor tables and take-home information.
WHO SHOULD ATTEND
SGSW is free and open to all high school girls in Santa Clara County and their adult allies, including their mothers (or mother-figures) and professionals who work with them. We welcome underserved populations including Latinas, immigrants, and LGBTQ girls. All participants must be in high school and reside or work in Santa Clara County. No middle school students are allowed due to the mature content of this conference.
There is a separate conference for college women at Evergreen Valley College on the same day. Register at https://strongwomenleadershipconference.eventbrite.com
CONFERENCE COST TO ATTENDEES
The Strong Girls, Strong Women high school girls' leadership conference is free to all attendees, including large and small group workshops, photos, gift bags, breakfast, lunch and parking.
VISIT OUR WEBSITE FOR MORE INFORMATION, INLCUDING THE FLYER AND WORKSHOP DESCRIPTIONS:
https://www.sccgov.org/sites/owp/Pages/sgsw-15.aspx