Stroll & Roll 2018

Sunday, November 4, 2018 from 10:30 AM to 1:30 PM (EST)
Event Details
Healthy Fun for Everyone!
Warm weather got you busting to go outdoors? What about the family?
The FreeWalkers and Union County Parks have the perfect event for you and your family. It's a FREE Sunday stroll on November 4th along the beautiful trails that grace Echo Lake Park and extend to Lenape Park. This is not a race but a chance to walk a little bit farther than you normally might.
Visit StrollRoll.org to learn more.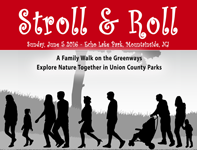 The route is a straight line from the Gazebo at Echo Lake to the bridge in Lenape Park and back. The trail distance we've marked for this event is about two miles. So, you can walk the entire distance and cover up to 4 miles (2 miles to the end and 2 miles back). But, if you prefer, simply walk as far as you want and return.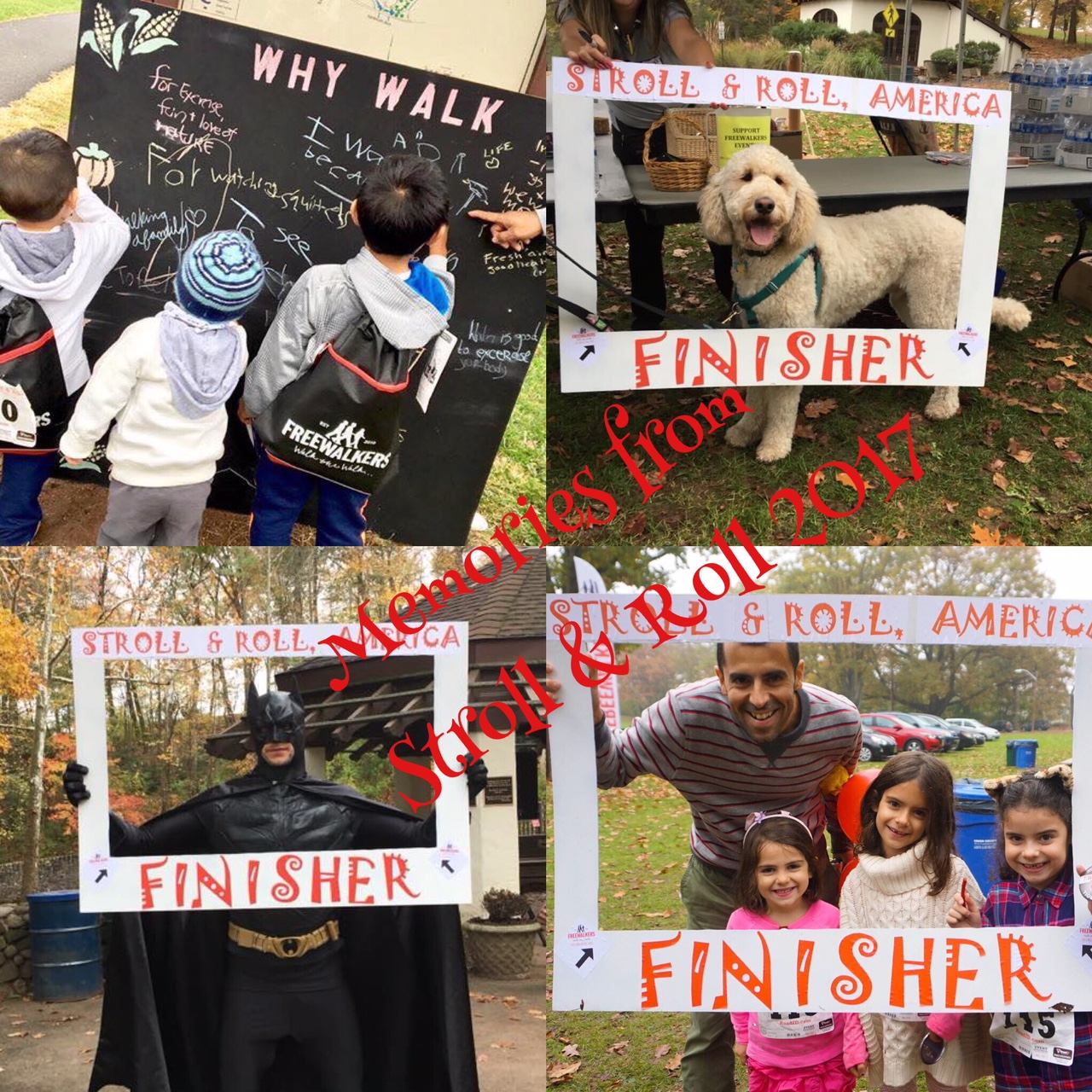 What we'll do:
The idea is to get everyone moving - walking or rolling. There will be fun activities for kids, a souvenir passport book to stamp along the way and special gifts for all who participate. It will be a special family-friendly and healthy event. Infants or toddlers in strollers? No problem!! They can come along for the ride. Even bring the grandparents and the dog along! Wheelchairs are welcome and encouraged to roll with us too.
How it works:
There will be a rolling start from 10:30 to 11:00 so you can choose to start at anytime between. We ask all families to walk together as a team and to encourage and enjoy each other's company. There will be creative activities along the way as well as educational opportunities to learn more about nature and the environment around us. 
Why Walk?
Why Walking? Walking is one of the most natural forms of exercise and is beneficial to use in many ways. There is now a national push to use walking as a way to get and keep healthy. The Surgeon General's program called "Step It Up!" recognizes the importance of walking for people of all ages and abilities. It calls on Americans to be more physically active through walking. FreeWalkers events and programs are designed to encourage everyone - from children to seniors - to walk for their own benefit as well as their community.

Join the FreeWalkers:
FreeWalkers.org: a non-profit 501(c)3 organization that offers events, information, & networking, educating the public on the benefit of walking. Learn more about our events and join our network of FreeWalkers with events in New Jersey, New York, Pennsylvania, Connecticut, Boston and Washington D.C. We even host host several events abroad each year.

Enjoy Union County Parks and the East Coast Greenway:
While visiting the area for this event, take advantage of the many features of these popular Union County Parks such as Dog Park, Fishing, Fitness Trail, Pedal Boats, Picnic Area (Reservable), Playground, Restrooms, and Snack Bar. The surround towns of Westfield, Cranford, Mountainside and Kenilworth are know for their vibrant and welcoming communities. The East Coast Greenway is a 3,000-mile national trail runs through Nomahegan and Lenape Parks. Walk a small but beautiful portionof the ECG right here in Cranford.


Sponsors Wanted - be on the Stroll and Roll Team:
We have several sponsorship options and appreciate any donations for this program. Sponsor programs include recognition for your business and opportunities to distribute information about your products and services.
Contact: Project Directors: Yohana Osorio (973) 885-3146 or Risa Olinsky (201) 618-5582


Please support our partner sponsors:
When & Where

Echo Lake Park
Springfield Avenue
Mountainside, NJ 07092


Sunday, November 4, 2018 from 10:30 AM to 1:30 PM (EST)
Add to my calendar
Organizer
FreeWalkers is a non-profit 501(c)3 social organization and network for individuals interested in participating in distance walking events. Our group is free and open to everyone. We encourage each member to accomplish challenging goals as we work together, experience, and promote pro-pedestrian issues. Paricipants accept responsibity for themselves on the walk.