Stroke Certified Registered Nurse (SCRN) Review Course
Description
REGISTRATION CONFIRMATIONS are emailed instantly to the address used during registration. For this reason, we recommend using a PERSONAL EMAIL. Many servers will block/junk large emails, especially ones coming from outside the company. If you do not receive your confirmation, verify that you typed your email address correctly in both spots and check your junk folder.
Program Purpose
This two-day program is designed to present a comprehensive review of care of the stroke patient. The content presented will assist the experienced neuroscience nurse in preparing for the stroke certified registered nurse exam (SCRN). This content should also benefit all healthcare professionals caring for neuroscience patients.
Target Audience
Nurses and all healthcare providers who wish to increase their knowledge in providing the most skilled care available for stroke patients.
Objectives
1. Identify clinical signs of an ischemic stroke involving anterior, middle and posterior cerebral artery occlusion.
2. List and discuss the modifiable risk factors of a stroke
3. Discuss the role of the dispatcher and EMS providers in dispatching patient to the highest level of care possible within the shortest time possible.
4. Discuss the dose and calculation of the rtPA therapy and state the guidelines for monitoring during and after administration.
5. Discuss the purpose of a non-contrast CT scan in evaluating an acute ischemic and hemorrhagic stroke.

Accreditation
This activity has also been designed to meet the Minnesota Board of Nursing continuing education requirements for 14 hours of credit. However, the nurse is responsible for determining whether this activity meets the requirements for acceptable continuing education.
Faculty


Kendra M. Kent, MS, RN-BC CCRN, CNRN, TCRN
Kendra has an extensive and comprehensive knowledge base and is known for her ability to simplify complex material. She received her BSN from the University of Texas in Arlington in 1985 and her MSN as a Clinical Nurse Specialist from Texas Women's University in 1993. Kendra has specialized in neuroscience and critical care nursing throughout her career. She has worked in the following prestigious hospitals: Parkland Memorial Hospital in Dallas, Texas; Harris Methodist Hospital in Ft. Worth; St. Mary's Hospital in West Palm Beach, Florida. She is currently the Director of Marcus Neuroscience Institute in Boca Raton, Florida. She is also the co-owner of Quest for Nursing Seminars.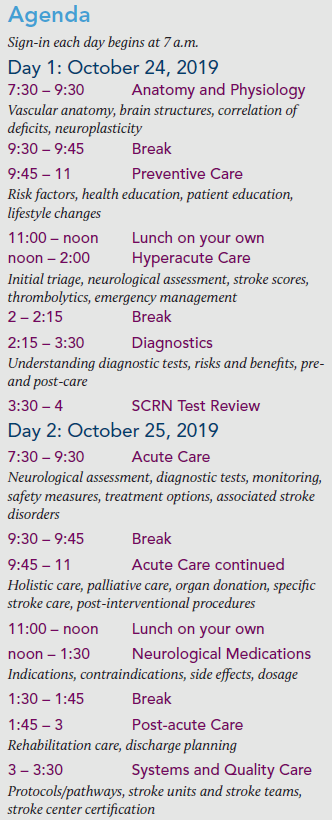 Planning Committee
Liz Kozub, MS, RN, CCNS, CNRN, CNRN –ANW Clinical Nurse Specialist, Neurosciences
Leena Martel, BSN, RN – ANW Neuroscience Patient Care Supervisor
Lucy Furlong, DNP, RN, NE-BC – ANW Neuroscience Patient Care Manager