Stroke Certified Registered Nurse (SCRN) Review Course
Event Information
Location
Abbott Northwestern Hospital - Education Bldg. A/B
800 East 28th Street
Minneapolis, MN 55407
Description
When registering we recommend using a personal email over work; many sites will block/junk large emails from outside the company. Your confirmation and communications will be sent to this address.
PROGRAM PURPOSE
This two-day program is designed to present a comprehensive review of care of the stroke patient. The content presented will assist the experienced neuroscience nurse in preparing for the stroke certified registered nurse exam (SCRN). This content would also benefit all healthcare professionals caring for neuroscience patients.

TARGET AUDIENCE
Nurses and all healthcare providers who wish to increase their knowledge in providing the most skilled care available for stroke patients.
CONTACT HOURS
This activity has also been designed to meet the Minnesota Board of Nursing continuing education requirements for 17.4 hours of credit. However, the nurse is responsible for determining whether this activity meets the requirements for acceptable continuing education.
OBJECTIVES
1. Identify clinical signs of an ischemic stroke involving anterior, middle and posterior cerebral artery occlusion.
2. List and discuss the modifiable risk factors of a stroke.
3. Discuss the role of the dispatcher and EMS providers in dispatching patient to the highest level of care possible within the shortest time possible.
4. Discuss the dose and calculation of the rtPA therapy and state the guidelines for monitoring during and after administration.
5. Discuss the purpose of a non-contrast CT scan in evaluating an acute ischemic and hemorrhagic stroke.
AGENDA
Sign-in begins at 7:00 am in the lobby of the Education Building on the Abbott Northwestern Campus. Each day includes morning coffee, afternoon snack and a 60 min lunch on your own. The order of lectures presented and break times may vary according to speaker preference.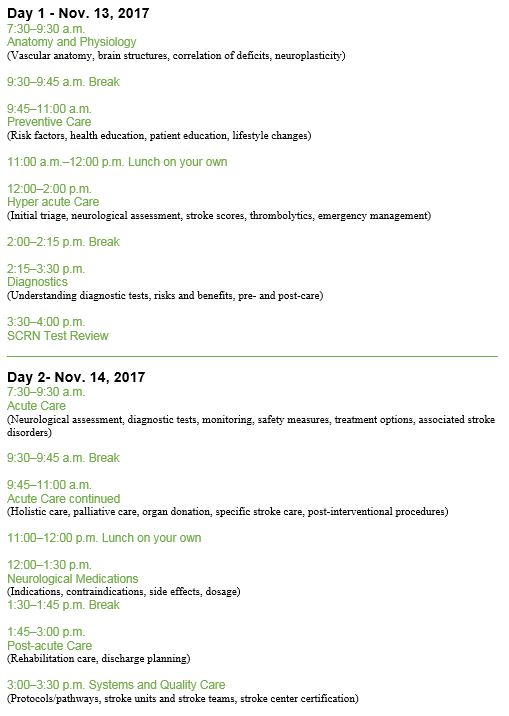 TUITION
Allina Health employee: $100 and Non-Allina Health employee: $200
Registration will close on Sunday, Nov. 5, 2017 at 11:59 p.m. After Nov. 5 at 11:59 p.m., add the additional late and day of registration fee of $25 to the tuition above. No refunds can be issued; no substitutions may be made. Space is limited. Please register early.
PRESENTER

Kendra M. Kent, MS, RN-BC CCRN, CNRN, TCRN
Kendra has an extensive and comprehensive knowledge base and is known for her ability to simplify complex material. She received her BSN from the University of Texas in Arlington in 1985 and her MSN as a Clinical Nurse Specialist from Texas Women's University in 1993.
Kendra has specialized in neuroscience and critical care nursing throughout her career. She has worked in the following prestigious hospitals: Parkland Memorial Hospital in Dallas, Texas; Harris Methodist Hospital in Ft. Worth; St. Mary's Hospital in West Palm Beach, Florida. She is currently the Director of Marcus Neuroscience Institute in Boca Raton, Florida. She is also the co-owner of Quest for Nursing Seminars.
WHY BE CERTIFIED
Certification in a nursing specialty shows that you have taken the extra step to validate your knowledge and skills. Take the time to show your colleagues and patients your commitment to excellence in medical-surgical nursing practice.
• Promotion of quality patient care
• Evaluation of the standards of medical-surgical nursing practice
• Documentation of this specialized knowledge base
• Peer recognition
• Increased self-esteem and satisfaction
• Advocacy for the specialty of medical-surgical nursing
ALLINA HEALTH EMPLOYEE REIMBURSEMENT
If you are planning to use the Tuition/Education Claim Form to pay for this course, you have two Claim Types to choose from:
Advancement (prior to course) – Submit a copy of the brochure showing price, after the class a certificate of completion should be submitted to the HR Service Center

Reimbursement (after course) – Submit a copy of the certificate with proof of payment. Submit these forms to the HR Service Center, MR 10700; Learning & Development is unable to process these forms.
For questions regarding reimbursement call HR at 612-262-4688.
DIRECTIONS AND PARKING
Abbott Northwestern Hospital - Education Building Auditorium (located on 26th St.). The closest parking ramp to the Education Building is the Childrens Hospital Ramp located off of E 26th Street & 10th Ave.
Participants are encouraged to park in the Minneapolis Children's Visitor parking ramp located off of 26th Street, near the 910 Medical Building. Entrance to the parking garage is from 10th Ave. The Education Building is located directly across the street from the parking ramp. Parking fees are on your own.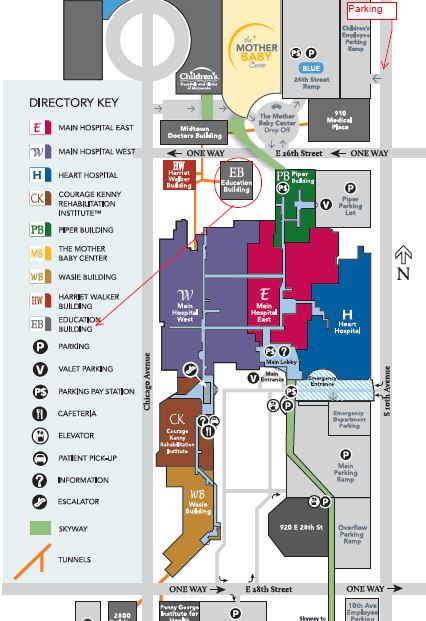 ANW PLANNING COMMITTEE
Liz Kozub, MS, RN, CCNS, CNRN, CNRN – ANW Clinical Nurse Specialist, Neurosciences
Zach Linde, BSN, RN – ANW Neuroscience Patient Care Supervisor

Date and Time
Location
Abbott Northwestern Hospital - Education Bldg. A/B
800 East 28th Street
Minneapolis, MN 55407