Event Information
Location
Center for Sex and Culture
1349 Mission Street
San Francisco, CA 94103
Description
---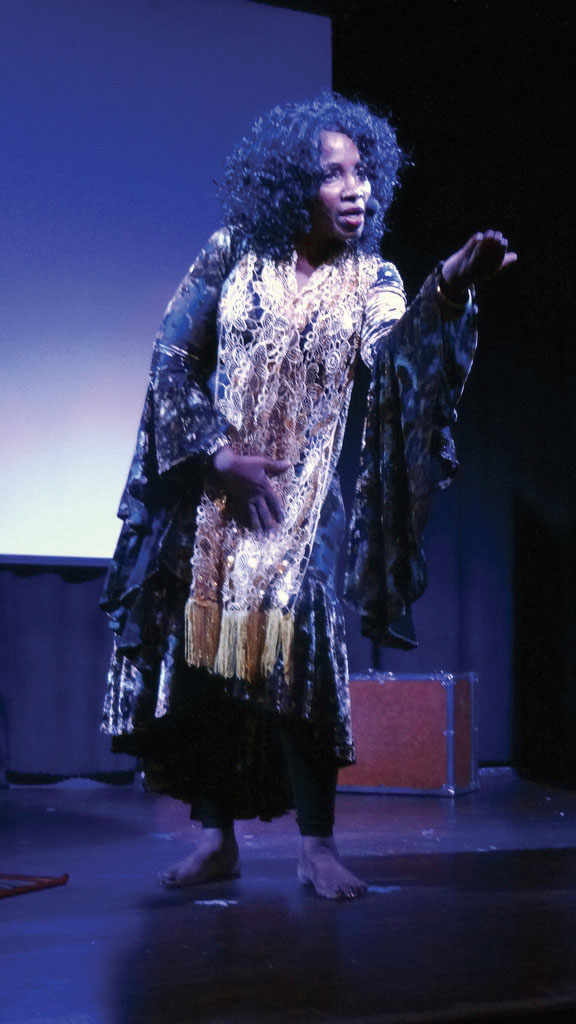 Performance Artist and Teacher/Film Director/Coach/Radio Host Jovelyn Richards presents "Strippin Down to Story," a glimpse into gender and racial, economic and social politics of the 1930's.
New York City was a haven and birth place of the Harlem Renaissance and the beginning of what many referred to as the New Negro, where Jazz was not just music but a of life. While most whites supported the down trodden– as depicted in painting and writings– they regarded the work and the artists as 'primitive.'
Enter Dr. Diane Edwards, born and raised in Alabama. It's no mystery how a Negro woman in the eye of the double barrel of racism and sexism finds herself stripped of her medical license, and left in streets of Harlem. Dianne Edwards, under the influence of Jazz is transformed into Sangria Red, a strip tease artist, in one of Harlem's most exquisite clubs.
"Strippin Down To Story' emerges, countering the invisibility of our stories, of women's stories, of Black Women's stories. It's unfortunately true: Viewpoints and narratives are recorded by those with the loudest voices of power. Fake news is not new. Come to 'the most exclusive club in Harlem' to hear, first hand and uncensored, the provocative voices of ordinary people with extra-ordinary lives muted in the political, social and economical wheels of injustice; Strippin Down to Story.
During the week prior to this theatrical performance there has been a workshop. Sex Workers attending the festival have been attending the workshop and will add their stories to the scenario.
About the Workshop: NOTE THE FRIDAY NIGHT PERFORMANCE IS NOT A WORKSHOP. THIS PERFORMANCE IS A THEATER PIECE AND IS NOT INTERACTIVE.
Where do our stories intersect? During the Festival, Jovelyn Richards has offered a short series of workshops in which our stories have been interwoven with Diane Edwards' biography. This workshop has been incorporating and teaching the principles and applications of a unique form of performance, JAZA, created by Richards. Jaza is both improvisational and narrative, rooted in the emotional landscape of jazz and blues– meaning, we explore and perform the emotional lives of people from which the music was created telling stories of Black Love & Intimacy.
Jovelyn Richards' combination of both theatrical and life experience as a community healer, advocate and personal growth counselor offers a unique learning opportunity for sex workers in our communities.
The workshop was free and open to all current and former sex workers of all identities, colors, genders, and communities.
Contact: sugars982@gmail.com for further information
More about Jovelyn Richards:
Jovelyn Richards is an artist, writer, and theater instructor, sharing the principles of her own unique form of performance based on the style of improvisational narrative and musical improvisation. Richards studied Theater of the Oppressed at Berkeley Repertory Theater. A skilled and charismatic performer, critics rave about her mesmerizing performances. She has performed internationally, recently at Central East University in Budapest, Hungary and in Berlin, Germany.
Jovelyn Richards performs regularly, locally, as a solo performance artist, a stand- up comedian and a singer. She has hosted a number of Bay Area radio shows for many years including 'Cover to Cover, Open Book' and worked on the development of 'Women's Magazine' dedicated to bringing global and domestic views and news and history and a many more.
She has been an instructor and lecturer at of several local colleges, including the Institute of Transpersonal Psychology and California Institute of Integral Studies, holding an MA and an MFA. Ms. Richards's recent independent film was nominated and awarded the CAAN Festival 2017 recognition and showcased at the New Parkway in Oakland, CA.
Her recent published novel; Tulips for Evening can be ordered at your favorite local bookstore or on amazon.com Tulips for Evening by Jovelyn D. Richards. Contact: Sugars982@gmail.com
Attend the Entire Festival
We encourage you to buy a Festival Pass to support our project. As you see below, all event Festival Passes are offered on a sliding scale from $80-150. Movie passes are $40-60 and you can also buy tickets to individual events linked here at Eventbrite and at the door (but some may sell out, so tickets can help). We also offer a NOTAFLOF policy and 'Special Guest Passes' to all events. Visit sexworkerfest.com for lots of information about the Festival.
The Sex Worker Fest is offering on a sliding scale at the door of the event and we also put aside some tickets for that purpose. We offer a NOTAFLOF (No One Turned Away For Lack Of Funds) policy.
If you are a current/former sex worker and are very eager to attend but need assistance such as a 'Special Guest Pass' we really want you to contact us at sexworkerfest@gmail.com! Please don't hesitate!

Or perhaps you would consider donating to our festival to support others who may not have funds.
https://www.tilt.com/campaigns/support-sex-worker-cultural-events-sexworkerfest
If you need additional information, locations, etc. email sexworkerfest@gmail.com or call (415) 857-5425.
Date and Time
Location
Center for Sex and Culture
1349 Mission Street
San Francisco, CA 94103