Description
Strikes for Rights is a 1-on-1 bowling tournament taking place June 10 at The Gutter bowling alley in Williamsburg, Brooklyn. 100% of proceeds will benefit the American Civil Liberties Union. For almost 100 years, the ACLU has worked to defend and preserve the individual rights and liberties guaranteed by the Constitution and laws of the United States.
Upon arrival, all bowlers will play one game, aiming for their best personal score. After all have bowled, the bowlers with the top 32 scores will be entered into a tournament bracket by seeds (March Madness style, #1 will play #32, #2 will play #31 etc.), and rounds will progress until one person is crowned Champion.
There will be raffles, games, and other fun ways to donate, as well as a donation-only option if you can't attend but would still like to support the ACLU mission.
---
Tournament entry includes bowling shoes, a limited edition t-shirt, and $5 in raffle tickets.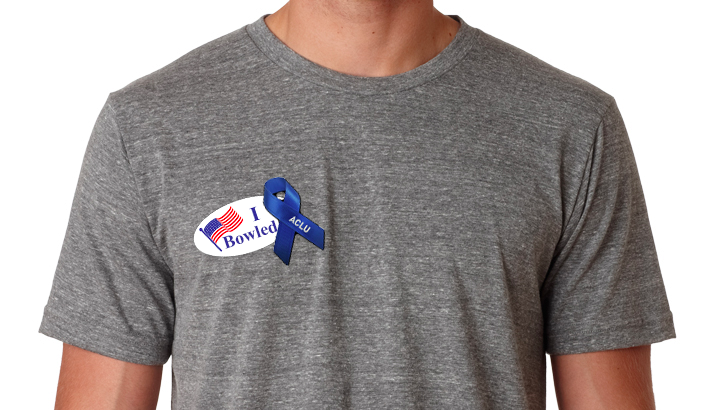 ---

Whether it's achieving full equality for LGBT people, establishing new privacy protections for our digital age of widespread government surveillance, ending mass incarceration, or preserving the right to vote or the right to have an abortion, the ACLU takes up the toughest civil liberties cases and issues to defend all people from government abuse and overreach.
With more than 2 million members, activists, and supporters, the ACLU is a nationwide organization that fights tirelessly in all 50 states, Puerto Rico, and Washington, D.C., to safeguard everyone's rights.
---
FAQs
Are there ID requirements to enter the event?
Not only is The Gutter an awesome bowling alley, it's an awesome bar and attendees must be 21 and over.
Isn't this tournament structure confusing?
We're using a unique first round system to get people bowling as quickly as possible. This method was used in last year's tournament, and proved a success. As bowlers finish their first game, scores will be publicly posted so everyone in the bar can monitor who's "in" in real time.
What are my chances to win? I haven't bowled since I was 12?
This is the fourth year in a row we've hosted a charity bowling event and we can ensure there are a wide range of skill levels participating.
Is there a prize for the Champion?
The ACLU Champion will receive a custom trophy, perfect for standard office desks, standing desks, Ikea dressers, or your mom's bookshelf.
What's The Gutter?
The Gutter has been an amazing partner the last four years in raising money for various charities. Beyond being beloved by locals, it's featured in SNL's opening credits, an episode of GIRLS, and 22 Jump Street.