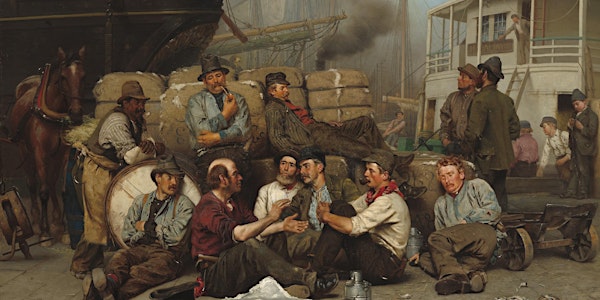 Strike a Prose: Fiction Inspired by "The Sweat of Their Face"
When and where
Location
National Portrait Gallery, Smithsonian Institution 800 G Street Northwest Washington, DC 20001
Description
"The Sweat of Their Face: Portraying American Workers" exhibition combines art and social history with representations of American laborers across genres and centuries of art.
In this creative writing workshop, we will use the photographs and paintings from the exhibition to inspire short stories. We will read and discuss fiction focusing on issues of labor and social justice in the U.S. and write our own stories.
Open to writers of all levels ages 18 and up.
Because the workshop begins before the museum opens to the public, please plan to arrive at the 8th and G Street, NW entrance at 10:20am so we may begin promptly at 10:30am.
Strike a Prose Workshops in This Series:
January 5 and 6: Fiction Inspired by "The Sweat of Their Face"
January 20 and 21: Strike a Prose: American Workers in the Twentieth Century (Fiction & Nonfiction)
January 26 and 27: Stories on Their Faces
To sign up for other workshops, please visit npg.eventbrite.com.
Image Credit: The Longshoremen's Noon by John George Brown; Oil on canvas 1879; National Gallery of Art, Washington, D.C.; Corcoran Collection (Museum purchase, Gallery Fund), 2014.136.2