Description
"Strike A Pose" Author Signing Affair with LaTanya Orr
Join LaTanya Orr as she celebrates the long-awaited launch of her first book — Strike A Pose: 7 Red Carpet Strategies Every Entrepreneurial Woman MUST HAVE to Position Her Brand with Style and on Purpose.
Here's the pitch:
As a self-confirmed fashionista, I learned early on from the Mothers in my life, that image is indeed everything! On Easter Sunday at the tender age of three, I donned a Jacqueline Kennedy-inspired coat, complete with a purse and white gloves! So you see, I had no choice but to go from age three to 45 in style! I didn't realize at the time, but my Mothers set me up to rock the "red carpet" even before it was the thing to do! Just like today's celebrities must rock the Hollywood catwalk, business women — entrepreneurial women — must "Strike A Pose" in front of the velvet rope of the global marketplace. Throughout my professional career, I've strategically positioned my my clients' brands to go beyond "just pretty."
Through Hollywood inspiration, Strike a Pose shows you, scene by scene, how to immerse yourself in everything you need to glam your brand – personally and professionally! Each chapter —"scene"— features the "hottest" strategies to position your brand with style and on purpose. Lights, camera, action! It's your time to shine.
Here's what people are saying:
"Bravo... Strike A Pose: is a encouraging guide to creating a brand that's profitable, sustainable and most importantly, on purpose! LaTanya Orr masterfully, offers proven strategies, principles and practices required to position your brand globally. LaTanya helps us understand, if you're not branding yourself, you can be sure others will do it for you. Mind your brand and watch it grow!"
—Ken Brown, International Business Coach/ Entrepreneur, Bestselling Author of "A Leap of Faith"
"I love bright red lipstick and I love these red hot words of wisdom. Striking a pose, can help you strike it rich…if you follow the strategies. The book is Etiquette and Education. Thanks LaTanya."
—Vanessa Tyler, Emmy Award Winning Anchor/Reporter/Host, New York, NY
"Captivating. Grabs your attention. Brands You for Success.Strike A Pose by LaTanya Orr is the culmination of her experiences building the success platforms for women across the nations. A gifted "social entrepreneur", and designer, LaTanya shares a wealth of professional and spiritual insights from business, marketing, and the design world to her readers in a "stylistic way" that shines with brilliance."
—Denise L. White, Author, Minister, and Founder, Loving God with Excellence Ministries, and Chief Human Resources Officer, A More Excellent Way Ministries Worldwide, Inc.
Event Details:
Wednesday, March 16, 2016 • 5:30pm-8pm
Brix Wine & Charcuterie Boutique • 7981 Kercheval Ave. • Detroit, MI 48214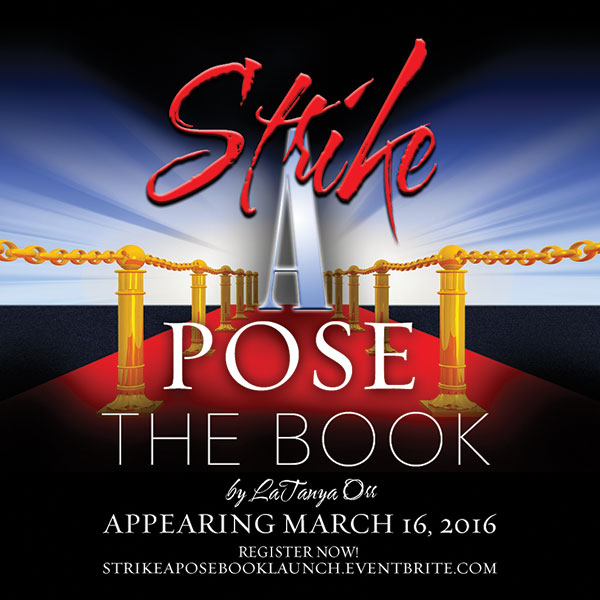 Affair Accoutrements: Sounds by the incomparable Dr. Angela Celeste May • Sips • Charcuterie & Sweets
Tickets » $25 [Includes autographed copy of book, hors d'oeuvres, networking & entertainment]
For more information, call 313.862.2995 or email concierge@strikeapose-thebook.net
Look forward to seeing you there!