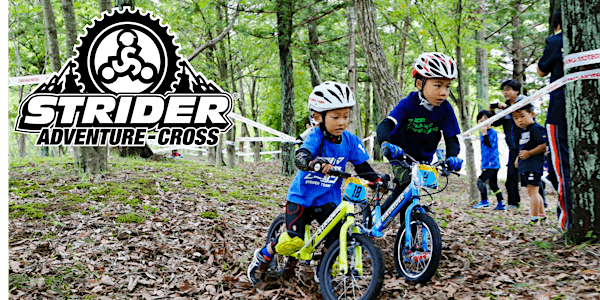 Strider Adventure-Cross - Bentonville, AR 2023
Strider Adventure-Cross 2023 - Bentonville, AR
Date and time
Saturday, September 23 · 6:30 - 7:30pm CDT
Location
Bentonville City Square 110 N Main St. Bentonville, AR 72712
About this event
For all the little riders with boundless energy who would rather go on a longer expedition, this ride is for you! Calling all kiddos who want to Run, Stride, and Pedal. The Strider Adventure-Cross is for all the 14x riders ages 4-6 years old and combines running, riding in balance bike mode, and pedaling all in one awesome race. This is a test of endurance and skill with a course that covers a wide variety of obstacles including tires, the Noodle Monster, the Dragon's Back, a Tunnel, and the Mount Scary Ramp! There are four stages in this dynamic race, one of which includes a pit stop where a guardian attaches the pedal kit to the 14x so the racer can pedal power through the finish line. An epic day for both racer and spectator, the Strider Adventure-Cross should be on the top of every rowdy toddler's bucket list.
This Strider Adventure-Cross race is a unique Strider take on a Cyclocross race but with a few fun twists! 
This race is only for racers age 4-6 years old (on September 23rd) on Strider 14x Sport bikes. The race is broken up into three different classes, the 4 year old class, 5 year old class, and 6 year old class. Each age class will race separately for three races total. No Strider 12" bikes are allowed due to how this particular race will be run.
Note: This is a separate and different registration from the "Strider Cup" races for toddlers on 12" Strider Bikes and 14x Bikes in balance mode that will also be happening on the same day (September 23rd) on the same course. This Strider Adventure-Cross race will be run immediately after the Strider Cup races. Please register if you would like your child to compete in any of those races which have three different classes (2 Year Old Class, 3 Year Old Class and 4 Year Old Class) Click this link to register for the Strider Cup races: HERE.
Unlike some of our other races, this is a race of endurance over a longer period of time and skill a lot like a Cyclocross race!  It will be a somewhat difficult race so please be sure that your racer is up for this challenge.  
The format of this race will be the following:
Stage 1:  From the starting line the racer will run one lap. (no bicycle)
Stage 2:  One parent or guardian will then hand off the bike at the Pit Stop (in balance bike mode - no pedals) for the racer to complete one lap.
Stage 3:  Next will be a Pit Stop where one parent will attach the pedal kit (Strider 14x Easy-Ride Pedal Kit) onto the bike.
Stage 4:  After the pedal kit attachment is completed by the parent or guardian the racer will continue on in pedal mode for one lap and through the finish line.
The course will have a wide variety obstacles and challenges where the racer may have to dismount and lift their Strider Bikes over something to be able to keep going. We are expecting this could take as long as 15 to 20 minutes to complete. The placing for awards will be based on the laps completed and the order of completing the race.
More information about the "Pit Stop"...  One parent or guardian will be assigned a particular area where the racer will come to after the balance bike mode portion of the race. When the balance bike mode is completed, the parent will then attach the pedal kit to the bike as fast as he/she can and then give the bike back to the racer so they can continue the race and last lap in pedal mode.  Please reference the rules for specific information as there are several issues that need to have compliance to stay within the structure of the race. Recommendation: Practice attaching the pedal kit BEFORE the race!!!
Our race will be on September 23rd at Bentonville City Square in downtown Bentonville, AR.  We will have the following tentative schedule for the Adventure-Cross:
Friday
4:00 PM - 7:00 PM .... Packet Pickup & Tech Inspection
Saturday
3:00 pm - 6:00 pm : Packet Pickup and Check-in.
6:30 pm - 7:30 pm : Strider Adventure-Cross Meeting, Race and Awards.
**Schedule is subject to change**
Tentative Schedule involving the Strider Cup Races:
3:00 PM - 6:00 PM .... Packet Pickup & Tech Inspection
3:00 PM - 3:10 PM .... Open Track
3:15 PM - 4:30 PM .... 2-Year-Old Class (12" Bikes)
4:30 PM - 5:30 PM .... 3-Year-Old Class (12" Bikes & 14x Bikes in Balance Mode)
5:30 PM - 6:30 PM .... 4-Year-Old Class (12" Bikes & 14x Bikes in Balance Mode)
We will be having three races and registrations will be limited to the first 10 registrants in each class.  
All registrations will have to be made online prior to Friday, September 22nd at 12:00pm (Mountain Time).  There will be no registrations after that time, none on race day or after registration has been capped at 10 racers in each age class.
All racers will receive either a trophy (top 5 finishers in each class) or a medal depending upon their finishing place, along with a custom souvenir number plate and a bunch of cool items in their registration bag!  Trophies and medals will be presented immediately after finishing each age groups race.
For those of you who are reading this and are not familiar with the Strider 14x Sport bike please go HERE and check out how cool it is!  
Tickets purchased via Eventbrite will receive an email confirmation with a link to print your etickets from your computer.  You may bring the printout of your tickets OR you may also have the confirmation email available during the packet pickup period.
No pets are allowed for their safety and the racers. Service animals are welcome.
Parking - We have no specific parking locations but there are many lots near the Bentonville City Square. Look HERE for a map of the nearby public parking areas.
To reference the Strider Adventure-Cross race rules look HERE
This Strider Adventure-Cross race is a rain or shine event.  No refunds or exchanges.  Tickets cannot be replaced or transferred to another race.
To reference the Strider Event Weather Policy click HERE.
If you have any further clarifying questions that you would like to address please email the Events Specialist - Ali Bice at ali@striderbikes.com.
Agenda
Friday Agenda
Saturday Agenda
4:00 PM - 7:00 PM
Packet Pickup & Tech Inspection
About the organizer
Strider creates and inspires future generations of riders by giving children as young as six months old the best first-bike experience. Strider Bikes revolutionized the bike's design to develop a child's balance first and pairs each balance bike with a proven learn-to-ride process. Children across the globe are starting on a Strider Bike and becoming two-wheeling virtuosos – before they're out of diapers.
 Founded in 2007, in Rapid City, South Dakota, Strider has sold more than 2 million bikes and is distributed in more than 75 countries. Visit www.StriderBikes.com, Facebook or Instagram.