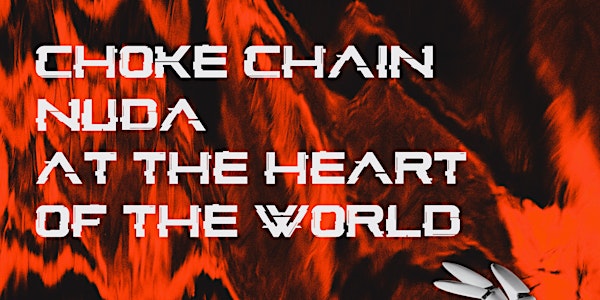 Strict Tempo: Choke Chain, NUDA, At the Heart of the World + Vox Sinistra
Strict Tempo presents a night of electronic body music and industrial dance sounds with Choke Chain, NUDA and At the Heart of the World
When and where
Location
Central Saloon 207 1st Avenue South Seattle, WA 98104
Refund Policy
Contact the organizer to request a refund.
Eventbrite's fee is nonrefundable.
About this event
Strict Tempo presents
Choke Chain
Choke Chain is the solo project of Mark Trueman, taking influence from Industrial, EBM, Dark Electro, Goth and Punk. Piercing, frantic vocals accompany sinister and punishing soundscapes that never let up the intensity and aggression.
https://chokechain.bandcamp.com/
NUDA
Nuda is a Solo Darkwave/Industrial Artist based in Seattle, Washington. She brings instrumental soundscapes with "a feminine touch" to Industrial Music. Previously a guitarist for the electronic band Possessed Tranquility who have opened up for well known bands Orgy and Wes Borland's Black Light Burns; She later began the solo instrumental project, "Nuda" and released her first album "Intimate Senses" in February 2019. Shortly after she became a part of the Cyberpunk Industrial band, DK-Zero as the live performance keyboardist. Her second album "Mindful Tragedies" finished during the world pandemic and was released in 2020, noted under "The Top 50 Albums" by ReGen Magazine. Mindful Tragedies includes collaborations with DK-Zero, Possessed Tranquility, and Jaymie Valentine of CINDERGARDEN. Nuda has been gaining traction in the industrial music community by guesting on other tracks including German Industrial band, Fleischkrieg. Her live performances feature guest vocalists and light shows that blend together an immersive experience.
https://www.nuda-official.com/
At the Heart of the World
 At The Heart Of The World return with a new record blending heavy industrial & dark EBM filtered through a love of pop music. Continually evolving through an EP, LP and two mixtapes, the band has found it's place amongst dark melodies and danceable beats.
Seven songs to raise our voices together and dance into annihilation
https://attheheartoftheworld.bandcamp.com/
hosted by Vox Sinistra
Vox Sinistra is a Seattle-based DJ exploring the synthesis of dark underground electronic sounds with retro and modern inspiration, ranging from old-school EBM, industrial and New Beat to minimal and cold waves, forward-thinking electro and techno, and '80s synth music such as Italo disco, acid house, synth-pop, new wave and more. With a background in post-punk, no wave and related '80s alternative and DIY punk movements, she combines sounds with rebellious spirit, nostalgic melodies, and avant-garde genre-mashing that stimulates bodies into movement for a cathartic and heavy dance music experience.
She is currently host of club night Strict Tempo, where she books an international selection of dark electronic artists, and is also known for her post-punk/obscure '80s wave radio show Secret Meaning of Things at KHUH 104.9 FM since 2011 (currently on hiatus), shortlisted for Best Music Show - Alternative in the 2018 Mixcloud Radio Awards. She has been featured in Mixcloud's 'One to Watch' series as a "post-punk extraordinaire". She is also a former music columnist for Seattle alt weekly the Stranger, and occasional contributor to Post-Punk.com. In 2017, she was inspired to mix her underground '80s sounds with techno and electro, and is now focusing on making club sets for dark and dungeonesque dance floors.
https://linktr.ee/VoxSinistra
Strict Tempo
Dark alternative/electronic events hosted by Vox Sinistra, in-person Seattle/PNW and worldwide on https://twitch.tv/VoxSinistra
Youtube: https://youtube.com/VoxSinistra
SoundCloud: https://soundcloud.com/strict_tempo
Mixcloud: https://www.mixcloud.com/StrictTempo
Facebook: https://www.facebook.com/stricttempoevents
FB group: https://www.facebook.com/groups/462809388253590
Instagram: https://www.instagram.com/strict__tempo/
$10 advance / $12 door
8pm door - 9pm show / 21+