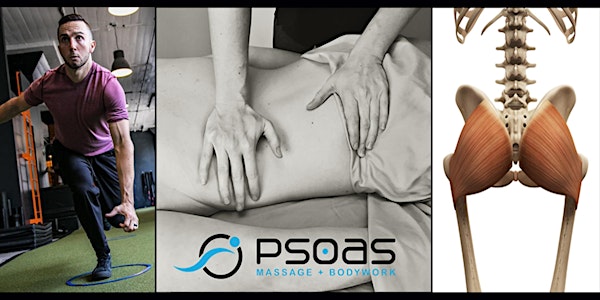 Stretch. Strengthen. Run. -- A workshop on lower body movement
When and where
Location
Psoas Massage + Bodywork 333 3rd St. Suite 205 San Francisco, California 94107
Description
It's crucial that we understand the complex systems at play when we run. Because this understanding is powerful. It can help us prevent injury and make huge strides towards our performance goals -- whether we're working up to a mile a day, or preparing for the Olympic trials.
At Psoas, we often work with athletes looking to optimize the function and movement of their lower bodies. We set out to design this workshop -- drawing on the expertise of our clinical team -- to help you do just that. We've found that these tools are relevant not only for runners, but for cyclists, soccer players, dancers, and movers of many other kinds – including passionate walkers!
So join us on Thursday, 1/10 to learn holistic strategies -- from PT, chiropractor, nutritionist, and Psoas therapists -- for keeping your lower body healthy, flexible, and as powerful as possible.
5:30-6:15: Lower Extremity Strengthening with Dr. Tony Comella
Tony is a licensed physical therapist with a specialty in athletic strengthening and conditioning. In this segment, he will teach foundational lower body strength exercises to incorporate into your routine -- improving athletic performance and reducing future injury risk.
6:15-7: Foam Rolling with Dr. Katherine McCarty
Katherine is a chiropractor and member of the Psoas clinical team. In this segment, she will demonstrate basic foam rolling techniques of the lower extremities and how these simple methods enhance an athlete's response to pelvic and lumbar spine adjustments.
7-7:45: Bodywork and Stretching Techniques with Psoas Therapists
In this segment, a number of Psoas therapists will demystify the bodywork modalities that best serve athletes. They'll also share best practices around how to integrate stretching and other self-care techniques with manual therapy – and how this can make it an even more powerful tool.
7:45-8:30: Anti-Inflammatory Eating for Optimal Movement with Karyn Duggan
Karyn is a celebrated nutrition consultant and natural chef. In this segment, she will offer education around anti-inflammatory foods, and how using them can help support all of your movement and physical activity.
We'll also have the opportunity to practice delicious and anti-inflammatory eating thanks to our friends at The Juice Shop. They'll be here to provide a variety of juices to keep you going -- and to talk about how juicing can support your optimal performance!