Event Information
Location
Studio Wolf Pachacuti
209 Lime Ave.
Long Beach, CA 90802
Description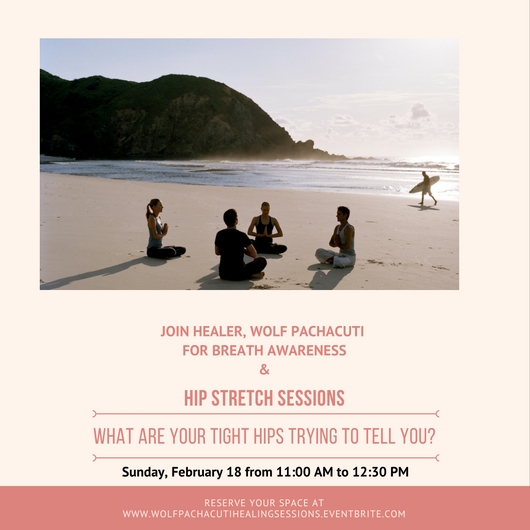 What does muscle tightness say about your emotional health? Are you carrying around emotional baggage in your shoulders and/or hips?
Hips can be described as the body's junk drawer. It's a place where emotions are unconsciously stored when we don't know what else to do.
Just as taking a walk, journeying on foot, and running are bodily exercises used to encourage us in a multitude of ways, stretching is also important. It rids the body and soul of toxicity.
With a goal of improving overall wellbeing and boosting happiness, you're invited to join Medicine Woman and Healer, Wolf Pachacuti as she guides us through deep breathing techniques and stretches, loosening our muscles with heavy emphasis on opening the hips.
STRETCH TO RID THE SOUL OF ALL ITS INORDINATE ATTACHMENTS
Some spiritual lessons can only be learned through kinesthetic experiences. Regardless of whether or not you are an expert when it comes to exercise, this session is perfect for you. Each individual will have the opportunity to gain something unique. Increasing flexibility allows a person greater ability to move freely decreasing fear.
In the same way our muscles need to be stretched, so does our spirituality. They're both connected, creating balance in our lives.
So join us and lets begin to sow seeds from a place of consciousness.
Lean into it,
Wolf Pachacuti
What to bring: yoga mat, foam roller & an open heart.
Date and Time
Location
Studio Wolf Pachacuti
209 Lime Ave.
Long Beach, CA 90802
Refund Policy