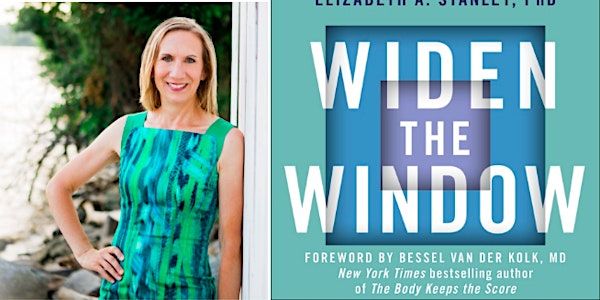 Stress, Trauma, Resilience, and the Jewish Experience
Join us for a book discussion on Widen the Window: A Book Talk about Stress, Trauma, Resilience, and the Jewish Experience by Dr. Stanley.
When and where
Location
Intercultural Center (ICC), Room 301 McGhee Library Georgetown University 3700 O Street NW Washington, DC 20057
About this event
About the book:
Join Dr. Elizabeth Stanley for a discussion about her recent book Widen the Window, which explores the neurobiology of stress, trauma, and resilience. In this talk, she'll discuss how stress, trauma and resilience have shaped and continue to shape Jewish experience. For instance, adult children of Holocaust-surviving parents are more likely to experience higher stress hormones, depression, and anxiety disorders than other adults. Likewise, the micro-dynamics of decision-making during stress and trauma also reinforce conflict-lengthening tendencies, as research with Israelis shows.
Widen the Window examines the cultural norms that impede resilience in America, especially our collective tendency to disconnect stress from its consequences and override our need to recover. In addition to diving deeply into the science behind stress, trauma, and resilience, the book explores how recovery and resilience are skills that can be trained. It weaves together stories with experimental and empirical research—including findings from four Department of Defense neuroscience studies with the U.S. military about the efficacy of Mindfulness-based Mind Fitness Training (MMFT)®, a resilience program Stanley created.
About the author:
Elizabeth A. Stanley, PhD, is an associate professor of security studies at Georgetown University. She is the creator of Mindfulness-Based Mind Fitness Training (MMFT)®, taught to thousands in civilian and military high-stress environments. MMFT® research has been featured on 60 Minutes, ABC Evening News, NPR, and in Time magazine and many other media outlets. An award-winning author and U.S. Army veteran with service in Asia and Europe, she holds degrees from Yale, Harvard, and MIT. She's also is a certified practitioner of Somatic Experiencing, a body-based trauma therapy.
Light refreshments will be served prior to the event. RSVP is encouraged.
-----
Any person with an accommodation request is welcome to email us at cjcinfo@georgetown.edu. We will try to meet these accommodation requests to the best of our ability.