Event Information
Location
Carrollwood Office
2807 West Busch Boulevard
Suite 100
Tampa, FL 33618
A 5-week workshop series on building stress management skills.
About this event
This workshop series consists of five psychoeducational sessions, in which the facilitator and participants will dive into 1 to 3 stress management topics and techniques per session to enhance participants' knowledge and skills. The group goal is to provide participants with the knowledge and skills needed to help them learn how to identify their own needs and stressors, learn about what causes stress, its long-term effects on the mind and body, and techniques and skills to help manage stress.
Please note that this is a series of 5 total meetings for female/nonbinary-identifying individuals only. DO NOT register if you cannot attend all 5 meetings.
Meeting dates will be;
Wednesday, April 6th at 1p
Wednesday, April 14th at 1p
Wednesday, April 20th at 1p
Wednesday, April 27th at 1p
Wednesday, May 4th at 1p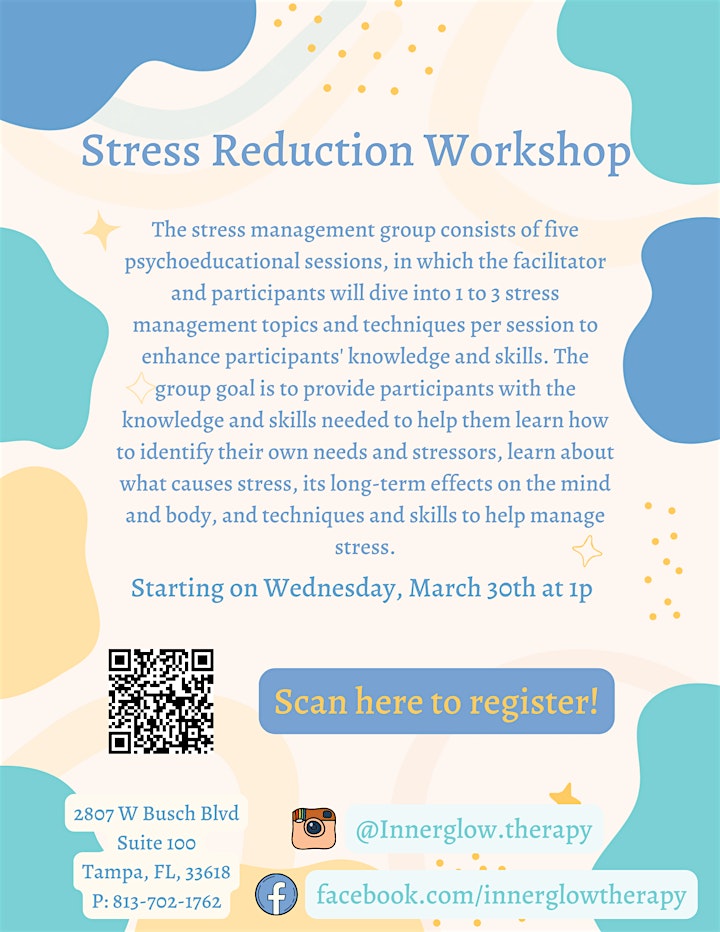 Date and time
Location
Carrollwood Office
2807 West Busch Boulevard
Suite 100
Tampa, FL 33618
Refund policy