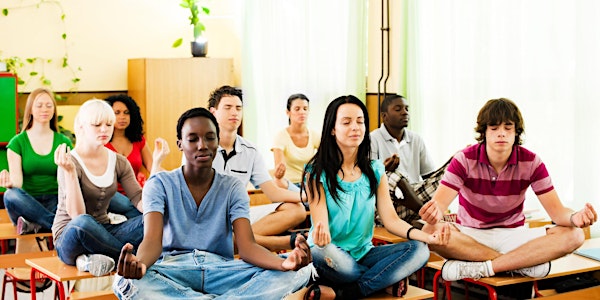 Stress Management for High School Students: Mindfulness Workshop
By Shelly Tygielski Mindfulness + Meditation
When and where
Date and time
Tuesday, December 19, 2017 · 10 - 11am EST
Location
NSU University School 3375 Southwest 75th Avenue Upper School Media Center Davie, FL 33314
Description
Join Shelly Tygielski in this 60 minute introductory mindfulness workshop and learn some practical stress management tools to carry you through midterms, the school year, finals and beyond, while helping you develop the inner resources you need to respond constructively to life's challenges. In a completely laid-back and approachable way, you will learn strategies to calm your mind, focus your attention, and improve your awareness – creating the mental conditions that will support your overall emotional balance.
For more information please contact Associate Director Mrs. Crawford at jcrawford@nova.edu
About the organizer
Mother. Wife. Sister. Daughter. Friend. Executive. Activist. Philanthropist. Surfergirl. Skatergirl. Guitar hero. Mind ninja. 
A passionate advocate of self-love, the benefits of meditation and the importance of enjoying the journey itself, Shelly set out to help a few friends in November of last year by introducing them to meditation and its benefits.  Her goal was simple: to help as many people as she could by providing them with the tools they needed to help themselves find the answers within. 
Shelly is a student of the Shambhala Buddhist tradition and has studied MBSR (Mindfulness-Based Stress Reduction) techniques. In her classes, she teaches various forms of meditation intended to be approachable, easy for the student at any level of practice and simple enough for them to continue to practice at home.
Shelly has already taught over 13,000 students since November of last year. She is currently writing a book about her journey to HappINess and the incorporation of mindfulness into modern life. 
She posts a daily meditation each morning on her facebook page.  These contemplations have been reposted by thousands.  
Shelly is available on a limited basis for executive mindfulness coaching, meditation retreats and classes. She is currently the President of one of the largest privately-held security services firms in the Southeastern United States and was selected as one of the South Florida Business Journal's 2014 "40 under 40" and 2015's "Most Influential Business Women" in the region.