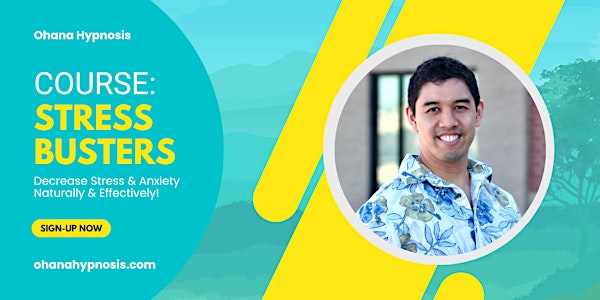 Stress Busters Course
Are you interested in reducing your stress? Now you can with our Stress Buster's course!
When and where
Location
Natural Grocers 4517 13th Avenue South Fargo, ND 58103
About this event
Are you ready to experience less stress in your life?
Today, more than ever, we're searching for ways to reduce daily stresses.
We're showing you exactly HOW hypnotherapy is different from any other stress reliever, by offering you a seat at our relaxing Stress Busters class!
We're going to shoot it to ya straight.
Hypnotherapy simply works…
Whether you're looking to lessen stress, ditch the anxiety, or stop certain habits…
You'll discover how hypnotherapy can help support a more relaxed you!
Hi there! My name is Glen San Juan.
And it wasn't very long ago I struggled with some serious stress & anxieties.
Let's be honest, I tried so many ways to relieve this stress.
I found myself at the lowest point I had EVER been in my entire life.
My quality of life suffered, my family's quality of life suffered, and my work life was beyond stressful…
Full of anxiety…
Maybe you can relate?
I seemed to have run out of options.
But then, I was introduced to a completely different way to lessen my stress!
One that had people reaching out to me to help them through their stress!
And since I no longer process stress the same way, I knew I HAD to tell as many people as possible!
And I'm giving you the opportunity to sit in on my Stress Busters course for yourself!
When you come to my Stress Busters course you will notice:
1. Less Stress.
2. Less Anxiety.
3. More Energy.
And So Much More!!
But you'll want to sign up right now because I am only able to host 10 individuals!
Now if you are perfectly fine with your stress, then keep doing what you're doing!
But if you need some help… then the way I see it, you have 2 choices:
Option 1, stay stressed out…
Keep plugging along with no changes & no results...
OR
Option 2, sign up for your Stress Busters course & discover how hypnotherapy is different from any other stress reliever!
The best part is you can start reducing your stressors immediately!
So if you don't think it's a fit for you, you won't be out anything but a few minutes of your time.
It's a win-win.
So sign-up today!
**Course is available to those who are 18+ years old.