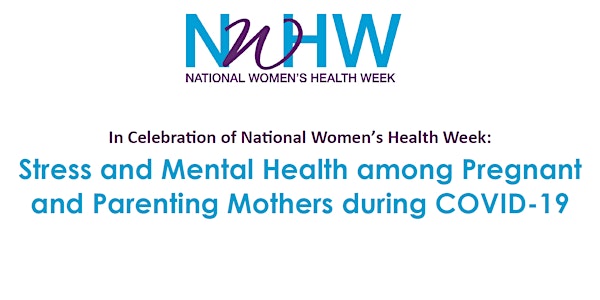 Stress and Mental Health among Pregnant and Parenting Mothers during COVID-19
Description
Stress and Mental Health among Pregnant and Parenting Mothers during COVID-19
Featuring:
Antoinette Byrd-Carr, MD, Chief Medical Officer, Obstetrics and Gynecology, Western Wayne Family Health Centers, Detroit, MI
Melissa Brymer, PhD, PsyD, Director of Terrorism and Disaster Programs, UCLA/Duke University National Center for Child Traumatic Stress
Audience
State and local stakeholders: health and social service providers who interact with pregnant and parenting mothers: MRCs, HRSA clinics/FQHCs, WIC clinic staff, faith-based communities
Learning Objectives
Through this webinar, participants will: 1) Gain insights into the realities of pregnancy, childbirth, and postpartum parenting during the COVID-19 pandemic, 2) Become familiar with basics of Psychological First Aid as a tool to care for patients, and 3) Learn about NWHW and resources available through the Office on Women's Health.
Tuesday, May 19th
12:00 pm - 1:00 pm ET

11:00 am—12:00 pm CT

10:00 am - 11:00 am MT

9:00 am - 10:00 am PT
Hosted by the Region 5 Office of the Assistant Secretary for Health (OASH) . If you have any questions, please contact Michelle Hoersch at: Michelle.Hoersch@hhs.gov.