Description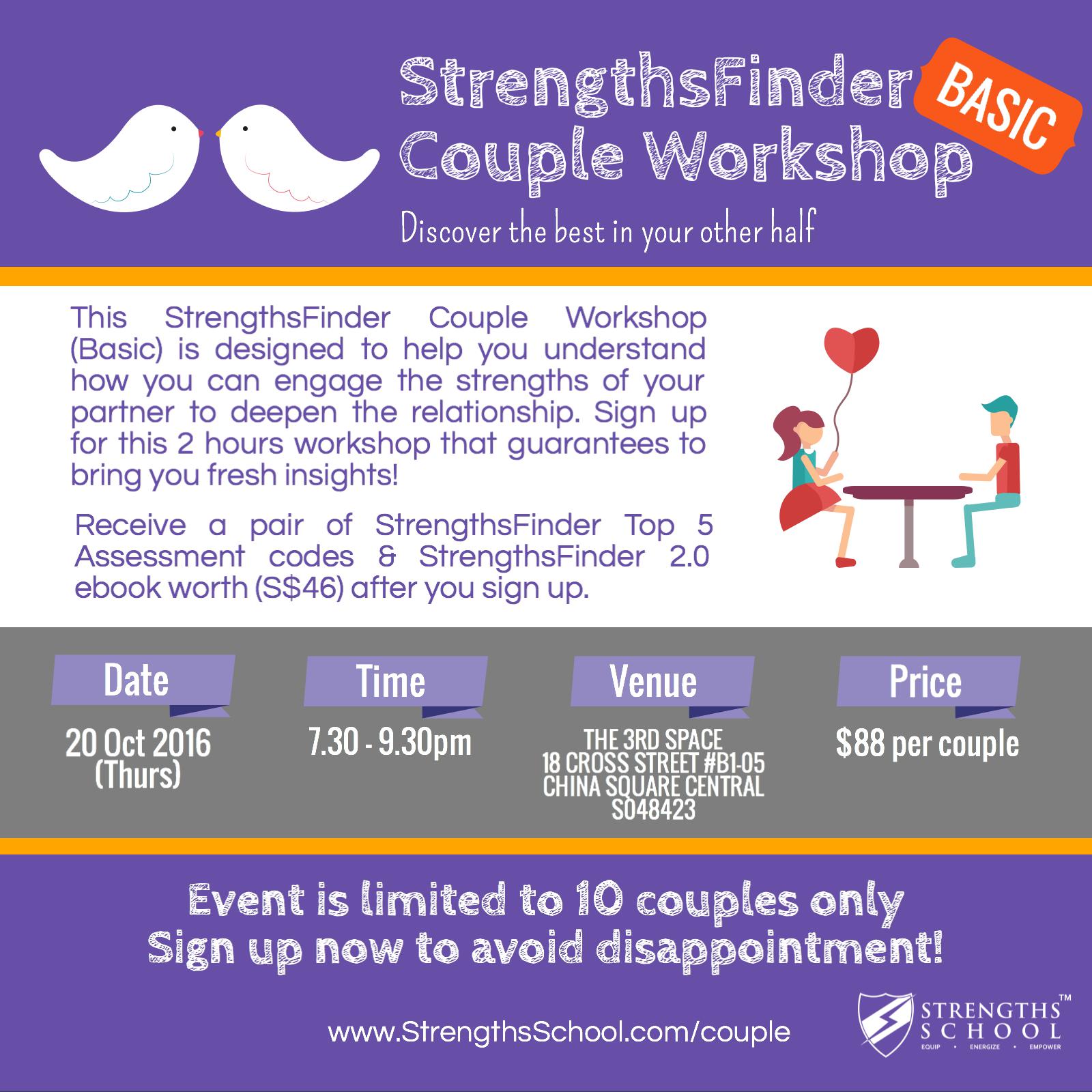 Register your interest to discover how you can use StrengthsFinder® to grow and improve your relationship with your partner and spouse. Listen to stories about how understanding each others' strengths has led to reduction in conflicts! Leverage on each others' strengths to serve together! Together with Gallup Certified StrengthsFinder® Coaches Victor Seet, Jason Ho and Charissa Ee, you get to understand about engaging your partner with your strengths.
This StrengthsFinder Couple Workshop (Basic) is designed to help you understand how you understand how you can engage the strengths of your partner to deepen the relationship. Sign up for this 2 hours workshop that guarantees to bring you fresh insights!
Testimonials from past workshops:
"The workshop gave me a higher understanding of myself and why I do things a certain way and a much much better understanding of how my husband thinks and works. This allows me to appreciate him more as a father and husband and to love him more." - Adeline Koh
"This workshop provides me with handles to understand my wife. I think it's useful for couples who are struggling to understand the reasons for conflicts. I rate this workshop 9/10." - Leonard Yeo
"The workshop aptly provides an insight into our strengths and how our strengths view things, shaping our thoughts/opinions/actions. A good start to understanding and working together with my partner. The workshop shed some light on why my partner behaves in a certain way which is my blind spot! I learn that we need to feed off one another's strengths!" - Jeslyn Ho
"I found out through this workshop what keeps our relationship going strong - our strengths help us to see each other's perspectives. This workshop is light hearted and easy to absorb!" - Sabrina Lim
"This workshop helped me to understand my partner's strengths and those of my own and be able to talk about it. We could relate some incidents, the bad ones which trigger fights & disagreements as well as those good ones that create good memories. Thank you for such an engaging workshop!" - Sandy Xiao
"The workshop gave me much clarity of the strength traits and a better understanding of my spouse. I believe this will benefit my relationship. Victor is also a very passionate trainer and this is evident in his teaching pattern. Thank you Strengths School!" - Eugene Tan
"After the workshop, I understand my partner and myself better. I understand why we feel, behave and make certain decisions as well as why we sometimes clash. This understanding will help us to manage conflicts and strengthen our relationship. I rate this workshop 9/10." - Jasmin Seow
Receive a pair of StrengthsFinder Top 5 Assessment codes & StrengthsFinder 2.0 ebook worth (S$46) after you sign up.
Brought to you by Strengths School™ Singapore.
Date and Time
Location
The 3rd Space
18 Cross Street #B1-05, China Square Central
Singapore, Singapore 048423
Singapore