| | |
| --- | --- |
| Strengths based Strategies for Parents | |
Event Details
I became a Strengths coach originally to help working adults and teachers.  But then something happened I didn't expect.  Strengths changed the way I parent my kids.   As  parent of two boys (ages 11 and 7) I made a startling insight about my children that caused me to worry less and celebrate more.  The very behaviors that would make me concerned or be the cause of frustration were in fact attributes of their innate and unique talents. Before I would see my youngest as stubborn, and extremely picky I now see a future leader with very high standards.  Rather than worry that his stubbornness will prevent him from working well with others, I now see talents that will lead him to success.  As his parent I can channel his energy into areas that will leverage these gifts.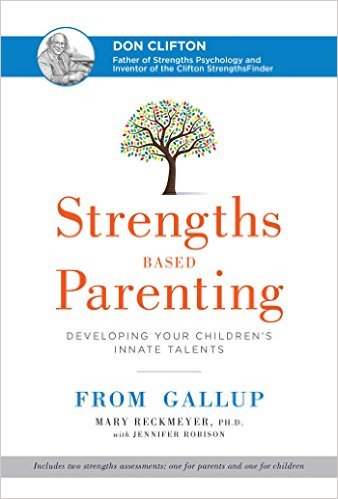 I was not alone in making these observations and in March of 2015 Gallup, the producer of the famous StrengthsFinder 2.0 assessment published the book "Strengths Based Strategies for Parents".   This workshop is based on the principles of this book.   Utilizing the StrengthsFinder 2.0 assessment tool, this introductory workshop offers parents an opportunity to better  improve their communication with their children.  In addition participants will understand their own Strengths and talents and how to use those talents to become the best parent they can be.
After 4 decades of research and over 2 million interviews Gallup, a global organization known for their expert analytics, was able to identify 34 themes of talent manifesting in unique combinations within every individual. Strengths is the word former Gallup chairman, Dr. Donald Clifton Sr., used to describe theses uniquecombinations which include the talent, knowledge, and skill people use daily; at work, in their relationships and to achieve their goals. However, according to Gallup most people don't actually know what their strengths are. In fact, in many cases when asked, clients will say "I don't know," or "I don't have any."
In 2001 the StrengthsFinder 1.0 assessment was released providing a tool to discover an individual's unique strengths. The result was so impactful that in 2002 Dr. Clifton was named the Father of Strengths-Based Psychology by the American Psychological Association. Aligned with the Positive Psychology movement, and integrating components of narrative and solution-focused therapy, Strengths is now considered a model of personal development founded on one simple question..."What is right with people?"
Purpose: The purpose of this event is to introduce school guidance counselors, social workers and psychologists to the Strengths model for personal and professional development.  
Target Audience:  Parents
Host: KeyTherapy LLC (Samantha Birtwell MA, LMFT and Stephanie Power, MA, LMFT)
Speaker: Justin Birtwell - Gallup Certified Strengths Coach
How You Will Benefit:
Gain deeper understanding of how people's talents can be the source of conflict and contribute to well-being

Learn tools to help clients see new possibilities in themselves

Gain a new solution focused methodology useful for struggling teens, conflicted partners, and stuck adults

Gain new insights into your own source of talent as a therapist
What You Will Take-away:

StrengthsFinder 2.0 Top 5 Signature Theme report ($15 value)

Your Top 5 Desktop Strengths plaque ($10 value)

Code for 1 Strengths Explorer assessment ($10 value)
Book "Strengths Based Parenting" ($18 value)
Action Planning Guide
Insight Report
downloaded e-book "StrenthsFinder 2.0"
Workbook
Certificate of Completion
What We Will Cover:
About Talent: Understand the link between talent and skill. Explore the 6 clues to talent, the impact of Strengths on individual 

performance, and emotional well-being.

About Your Report: Gain deeper insights into your Top 5 Signature Theme report. Build your Strengths profile. Identify the needs and motivations behind each of your Strengths.

About Contributions and Needs: In this section we will cover the link between the needs of each strength with frustrations and well-being 

About Your Clients:  We will align your strengths to your role as a therapists for maximum impact.W e will discuss application of the Strengths model with clients
Can I get CEU credit?
Credit requirements and approvals vary per state board regulations. Please save the course outline, the certificate of completion you receive from us and contact your state board or organization to determine specific filing requirements.
When & Where

Key Therapy LLC
Bradford Green - 755 Main Street
Building 8, Suite B
Monroe, CT 06468


Organizer
Justin Birtwell is a highly skilled speaker, facilitator, coach and social entrepreneur.  He is the founder of Teach with Strengths, a venture that helps educators, and parents maximize student outcomes through Strengths based interventions.  Teach with Strengths includes a vibrant social media outreach group for educators on Facebook.