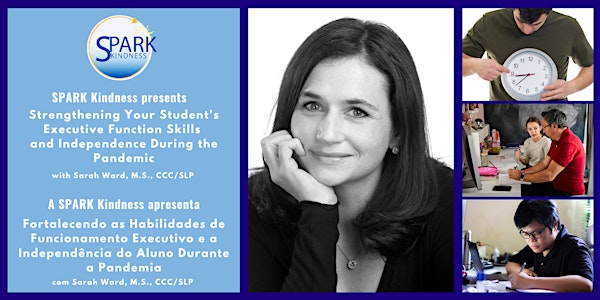 Strengthening Your Student's Executive Function Skills and Independence
Strengthening Your Student's Executive Function Skills and Independence During the Pandemic with Sarah Ward
About this event
Hybrid? All remote? In the classroom?
Regardless of the environment the demand on children's executive function skills is greater than ever. More and more independence is required of students to navigate school schedules, assignments and due dates as well as manage the workload. Sarah will share many practical executive function based interventions families could implement to improve organization, task and time management.
Simultaneous ASL and Portuguese Language Interpretation will be provided at this event.
Fortalecendo as habilidades de funcionamento executivo e a independência do aluno durante a pandemia com Sarah Ward
Híbrido? Todo remoto? Na sala de aula? Independente do ambiente, a demanda acerca das habilidades de funcionamento executivo das crianças é maior do que nunca. Cada vez mais independência é exigida dos alunos para lidar com os horários escolares, as atividades e os prazos, bem como para gerenciar a sua carga de trabalho. A fonoaudióloga Sarah Ward, M.S., CCC / SLP, compartilhará muitas intervenções práticas baseadas em funcionamento executivo que as famílias poderão implementar para melhorar a organização e também a gestão das atividades e do tempo.
Neste evento disponibilizaremos interpretação simultânea de ASL (Linguagem Americana de Sinais) e de Língua Portuguesa.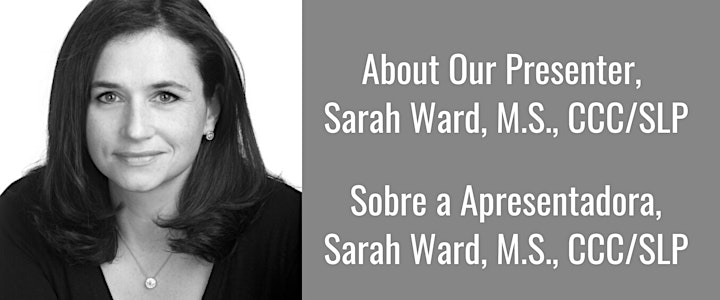 Sarah Ward, M.S., CCC/SLP has over 25 years experience in diagnostic evaluations, treatment and 
case management of children, adolescents and adults with a wide range of developmental and 
acquired brain based learning difficulties and behavioral problems not limited to but including:


Attention Deficit Disorder
Verbal Learning Disabilities
Non-Verbal Learning Disabilities
Asperger Syndrome
Other Social-Cognitive Learning Disabilities

Acquired Brain Injury

Her particular interest is in the assessment and treatment of executive function deficits.

Sarah is dedicated to developing innovative treatment strategies and educating the community to 
understand, care for and celebrate the learning and behavioral based differences in individuals with 
brain based learning differences.


Sarah Ward, M.S., CCC/SLP, é uma fonoaudióloga com mais de 25 anos de experiência em avaliações diagnósticas, tratamento e gestão de casos de crianças, adolescentes e adultos com uma ampla gama de dificuldades de aprendizagem relacionadas ao cérebro, relativas ao desenvolvimento ou que foram adquiridas, e problemas comportamentais que não se limitam a, mas incluem:
Transtorno de déficit de atenção
Dificuldades de aprendizagem verbal
Dificuldades de aprendizagem não verbais
Síndrome de Asperger
Outras deficiências de aprendizagem sócio-cognitivas
Lesão cerebral adquirida
Sarah tem interesse particular pela avaliação e o tratamento dos déficits de funcionamento executivo. Ela se dedica a desenvolver estratégias de tratamento inovadoras e educar a comunidade para compreender, cuidar e celebrar as diferenças de aprendizagem e comportamento em indivíduos com diferenças de aprendizagem relacionadas ao cérebro.
Learn more about Natick SEPAC at www.SEPACNatick.org
Parceiro da comunidade em destaque Natick SEPAC (Conselho Consultivo de Pais da Educação Especial)
Para saber mais sobre o Natick SEPAC, acesse www.SEPACNatick.org